E-Transit voorloper van hele nieuwe Ford range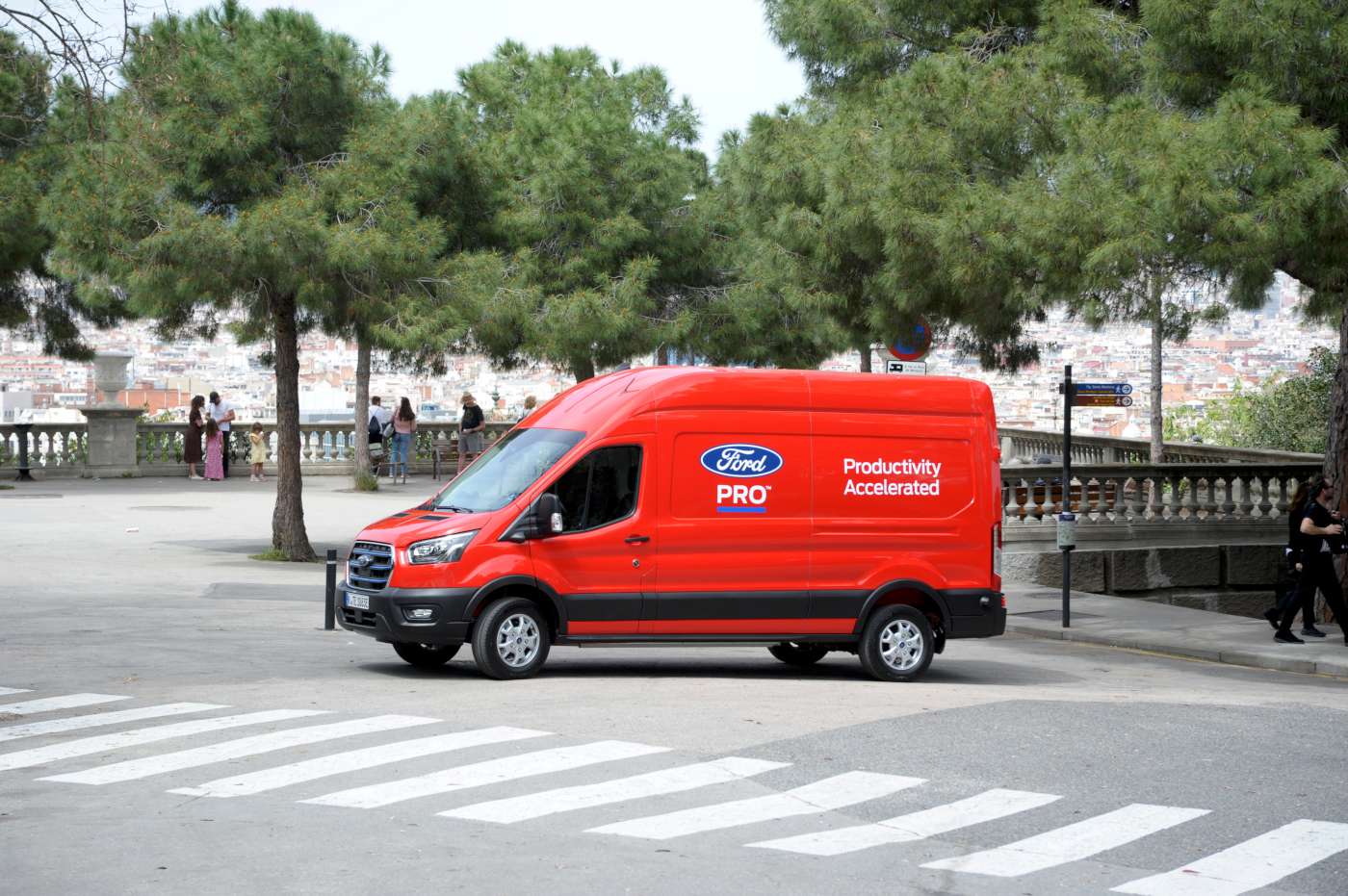 Ford introduceert de E-Transit als voorloper van een complete range aan elektrische voertuigen. In Spanje reden we de eerste kilometers met de elektrische Transit, maar we kregen ook al een voorproefje van de compleet nieuwe Ford Custom. Daarover later meer!
De elektrische versie van de 'wereldbestelwagen' van Ford wordt meteen leverbaar in zo ongeveer alle denkbare uitvoeringen. Dat betekent gesloten bestelwagens, verlengde, verhoogde in twee versies en zelfs een chassis-cabine uitvoering. De E-Transit wordt geleverd met een 430 Nm sterke krachtbron met vermogens van 135- of 198 kW. Met totaalgewichten tot 4,2 ton zet Ford hiermee meteen een volwassen serie elektrische voertuigen neer.
Stopcontacten aan boord
Standaard wordt de E-Transit uitgerust met twee stopcontacten, de zogenaamde ProPower Onboard-functie. Deze leveren tot 2,3 kW waardoor allerlei elektrisch gereedschap kan worden aangesloten. Reuze handig op de werkplek! Naast een aansluiting in de laadruimte is er ook een stopcontact in de cabine, bijvoorbeeld voor een laptop. Ook de rest van de uitvoering mag zeer compleet worden genoemd. Standaard zijn zaken als stoelverwarming, elektrisch-verwarmde buitenspiegels en een elektronisch geregelde climate control.
Rijk uitgerust
Verder is er het Synch 4 communicatie- en informatiesysteem. Dat werkt veel sneller dan de vorige generatie en middels het 12 inch grote touchscreen is bediening eenvoudig. In de Trend uitvoering is het Ford Connected Navigation System aanwezig. Dit systeem informeert niet alleen over verkeerssituaties, maar ook over parkeerruimte en de aanwezigheid van oplaadpunten. Alle E-Transit modellen zijn verder voorzien van het FordPass Connect-modem waardoor het voertuig altijd in contact staat met het Ford Pro-ecosysteem. Kopers krijgen een levenslang abonnement op een aantal Ford telematica diensten. 
Rijassistentie
Ook waar het gaat om assistentiesystemen heeft Ford de E-Transit rijk uitgerust. Zo is er Pre Collision Assist met voetgangersdetectie, een actief dode hoek systeem en een Lane Change and Warning system. Samen met een actief Lane Keeping System en Reverse Brake Assist wordt de chauffeur omringd door veiligheidssystemen. Laatst genoemd systeem bewaakt de achterzijde van het voertuig met sensoren en camera's en remt automatisch als er een object of persoon gedetecteerd wordt. En voor wie dan nog wat over het hoofd ziet is er het 360 graden camera systeem. Met al deze systemen won Ford inmiddels de Gold Award van Euro NCAP. 
Zachtjes zoemend
Tijdens de introductie werden we in de gelegenheid gesteld om de eerste elektrische kilometers met een E-Transit te maken. Starten gaat keyless en met de draaischakelaar op 'D' komt de E-Transit zachtjes zoemend in beweging. Afgezien van de dieselgeluiden werkt en voelt alles heel vertrouwd. De E-Transit is vlot als dat moet, maar kan ook heel rustig en mooi gedoseerd met het verkeer mee rijden. Met een de 'L' functie ingeschakeld regenereert de Ford duidelijk meer, waardoor eigenlijk zonder de rem te gebruiken gereden kan worden. Met die extra regeneratie wordt de actieradius belangrijk vergroot tijdens stop-and-go stadsdistributiewerk. We reden zowel beladen als leeg, maar de E-Transit was duidelijk niet onder de indruk van de 400 kilo lading. Overigens is er een setting mogelijk waardoor al te woest accelereren voorkomen wordt. Dat scheelt banden, energie en ergernis van overige weggebruikers.
Meer nieuws op komst
De E-Transit is de eerste van een hele nieuwe generatie Ford bestelwagens. Dit jaar nog komen de volledig nieuwe Custom, waarvan ook een elektrische versie beschikbaar wordt. Verder worden de Tourneo Custom en in 2024 de nieuwe Courier en de Tourneo Courier in elektrische vorm verwacht. Tijdens ons bezoek aan Barcelona mochten we al even kijken naar de nieuwe Custom, die binnenkort geïntroduceerd wordt. Deze volledig nieuwe één tons bestelwagen lost de huidige Custom af, en binnenkort ook de Volkswagen T6. Ford en Volkswagen werken namelijk samen en de nieuwe generatie van deze populaire bestelwagens wordt voortaan in Turkije geproduceerd. De eerste sneak preview gaf een goed beeld van een moderne, goed geproportioneerde bestelwagen. Het design ziet er erg goed uit met een stoer voorkomen. Nadere details volgen snel. De nieuwe E-Transit is inmiddels te bestellen en wordt al snel leverbaar. De prijzen variëren van ruim 58.000 Euro voor de chassis cabine versie tot 58.825 voor de kleinste, gesloten bestelwagen. Ford zegt inmiddels al 5000 orders genoteerd te hebben en de productie is inmiddels gestart.
Acht jaar garantie 
Het zal niet verbazen dat de E-Transit minder vaak de werkplaats in hoeft dan een conventioneel model. De service onderhoudsinterval is éénmaal per jaar, ongeacht het aantal kilometers. Verder biedt Ford maar liefst acht jaar of 160.000 kilometer garantie op alle elektrische hoogvoltage componenten, inclusief dekking voor overmatige degradatie. Verder is er een gratis éénjarig pechhulp pakket, inclusief noodoplading voor als dat nodig mocht zijn. Het Ford netwerk omvat inmiddels 1500 Europese Ford EV gecertificeerde dealers en 4500 erkende reparateurs met de nodige service apparatuur.
Ford Pro Ecosysteem
Met Ford Pro, volgens het merk een compleet 'Ecosysteem' biedt het merk een totaaloplossing om de productiviteit van elektrische wagenparken te verhogen. Met speciale oplossingen voor het laden, inspelend op de behoeftes van specifieke klanten en een totaalpakket van laadapparatuur, software en ondersteuning wil Ford de klant volledig ontzorgen. Daarbij is ook aandacht voor medewerkers die hun voertuig thuis stallen. Ook daarvoor zijn laadoplossingen leverbaar, compleet met een systeem waardoor de stroomkosten verrekend kunnen worden met de werknemer. Met Ford Pro kunnen complete vloten, ook van andere merken worden gemanaged, zowel elektrische als fossiel gestookte voertuigen. Ford claimt de productiviteit en de uptime belangrijk te kunnen verbeteren, onder meer met predictive maintanance.