VECTO aan basis nieuwe emissienorm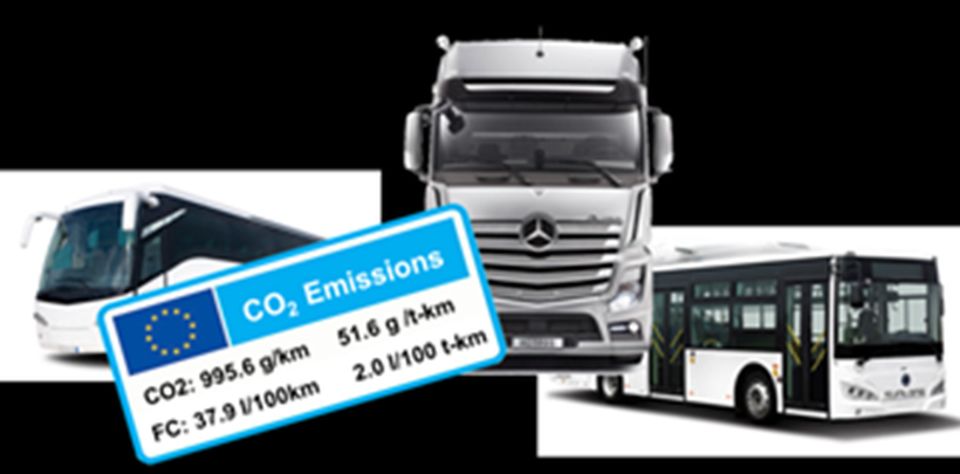 Vehicle Energy Consumption Tool, kortweg Vecto is een simulatie programma dat aan de basis staat van de nieuwe Europese milieuwetgeving voor bedrijfswagens, die het 'oude' tijdperk van Euronormen afsluit. Uitgegaan wordt van een nauwkeurige meting van zowel brandstofverbruik als CO2-uitstoot van de totale voertuigcombinatie. Die krijgt dan een milieulabel. Zowel combinaties als carrosserieën en trailers, alsmede bussen zullen binnen nu en acht jaar allemaal een milieulabel hebben, is de verwachting. Eerste wetsvoorstellen worden in 2018 verwacht, eerste implementatie in 2019.

Het is zeker tot Brussel doorgedrongen dat er in de wereld van bedrijfswagens een veel groter aantal variabelen bestaat die van invloed zijn op de uiteindelijke CO2-uitstoot dan bij personenwagens. Het noopte Brussel tot het ontwikkelen van een rekenprogramma dat is gebaseerd op een simulatie van een vrachtwagenrit door een afwisselend landschap. Dit rekenprogramma kwam tot stand onder andere door samenwerking tussen het Joint Research Centre van de Commissie in Italië en de TU van de Oostenrijkse stad Graz. Dat het nou net die Technische Universiteit is geworden is geen toeval: In Graz bevindt zich ook de hoofdvestiging van AVL, een bedrijf dat meetapparatuur ontwikkelt die gebruikt wordt bij de ontwikkeling van dieselmotoren.
Ontstaan
Volgens Iddo Riemersma, die onder andere werkt voor milieu organisatie Transport & Environment in Brussel, en die bij de samenstelling van de nieuwe wetgeving in Brussel betrokken is en die deskundig is op het gebied van voertuigemissies, is de benadering volgens VECTO, heel compleet. ''Tot nu toe hebben we met de Euronormen steeds grenzen gesteld aan de uitstoot van vervuilende gassen. Wat er nu gaat gebeuren is het in kaart brengen van de uitstoot van CO2, wat natuurlijk geen vervuilend gas is, maar waarvan de uitstoot wel rechtstreeks samenhangt met het brandstofverbruik. Tot nu toe werd met twee cycli gewerkt: eentje met het complete voertuig en eentje met alleen de voertuigmotor. Daar kwamen emissiewaarden uit, waar onder de CO2 uitstoot. De Europese Commissie wil nu een absoluut betrouwbare, waterdichte CO2 uitstoot voor trucks. Dat betekent dus òf een nieuwe testcyclus, of we volstaan met die motor. Maar zo'n motor wordt in tal van verschillende voertuigen gebruikt en die voertuigen hebben weer allerlei verschillende opbouwen en inzetgebieden. Dus dan kom je ook nooit aan een betrouwbaar CO2-meetsysteem. De rol van Transport & Environment in de groep van samenstellers is om te voorkomen dat er een set regels ontstaat, waar de industrie mogelijk toch weer een loopje mee zou kunnen nemen.''

Parameters van VECTO zijn de aerodynamica van het voertuig, de rolweerstand, het voertuiggewicht, de efficiency van de motor en hoeveel de aanverwante apparatuur aan energie verbruikt. Denk aan een compressor voor het luchtremsysteem of aan een waterpomp. Nadat dit programma was ontwikkeld, werd de truck industrie erbij betrokken, Daimler in eerste instantie, om uit te vinden in hoeverre het simulatieprogramma mogelijk afweek van de dagelijkse praktijk, en later ook DAF en Iveco. Het verschil tussen theoretische simulatie en de praktijk bleek reuze mee te vallen. De simulatieprogramma's werden in de praktijk uitgevoerd door twee trucks. Een DAF CF75 achttien tonner met 360 pk, geladen op net geen 15 ton. En een Mercedes Actros Euro VI opleggercombi met 450 pk motor op een gewicht van 33,5 ton. Er werd zowel op de rollenbank als op de weg getest. Het testcircuit van Iveco, Balocco bij Turijn, werd hiervoor gekozen. De afwijkingen bleken hooguit vier procent te bedragen, maar gaven verder een prima weergave van de CO2-uitstoot van gemeten voertuigen en voertuigcombinaties.
Grondslag
Volgens Brussel zijn zware vrachtwagens verantwoordelijk voor zes procent van de totale uitstoot van broeikasgassen. Een kwart van alle uitstoot van Europese broeikasgassen wordt veroorzaakt door transport in een of andere vorm. Standaards voor CO2-uitstoot, zoals we die inmiddels kennen bij personenwagens, zijn er nog niet voor trucks. Dat wat er wel is, gaat alleen uit van de motor en niet van het gehele voertuig, zegt Brussel. Met de nieuwe methode wil de Europese Commissie een nauwkeurige meetmethode realiseren die een reële weergave geeft van de CO2-uitstoot en die zodoende de weg vrij maakt voor labeling van bedrijfsvoertuigen. Aan de hand daarvan kunnen verladers dan bepalen welk transportbedrijf over de meest milieuvriendelijke vloot beschikt. Het nieuwe programma moet bovendien toekomstbestendig zijn, dus ook perspectief kunnen aanbrengen bij toepassing van alternatieve aandrijflijnen. Het moet de lasten voor truckbouwers zo veel mogelijk verlichten en die transparant maken.
(Veel) huiswerk
Voor een te meten voertuig heeft VECTO veel inputdata nodig. Voertuigmassa en -afmetingen. Er moet nauwkeurige bandeninformatie ingevoerd worden. Dus de maten, maar ook de coëfficiënten van de rolweerstand. Alle versnellingsbakverhoudingen moeten erin, inclusief de percentages van krachtsverlies op welk moment. De aerodynamica speelt een grote rol bij brandstofverbruik en dus bij CO2-uitstoot. Bij trailers zal vooral worden gekeken naar in de eerste plaats de aerodynamica en in de tweede plaats het gewicht. Nadat alle waarden met betrekking tot stroomlijn, banden en aandrijflijn zijn ingevoerd, zijn we er nog lang niet. Ook het soort en type dynamo, luchtcompressor, stuurpomp, fan voor de koeling en aircogegevens moeten ingevoerd worden. Natuurlijk ook het laadvermogen en van bussen moet het aantal passagiers dat vervoerd kan worden, worden ingevoerd.
SCT
Om te checken of de bedrijfswagen in kwestie de CO2-uitstootnorm daadwerkelijk haalt, werkt Riemersma met enkele collega's aan wat nu heet een Simplified Content Test (SCT), waarbij in de vorm van een steekproef wordt gemeten of alle meetwaarden van het moment van voertuigintroductie nog kloppen. ''Die test kan mogelijk uitgevoerd worden wanneer het land waar het voertuig gaat rijden een COP-check doet. Vastgelegd is hierin nog niks, maar dat er een steekproef-achtige check gaat komen, staat wel vast.''
Voordeel
Riemersma wijst op een belangrijk voordeel van de VECTO-methode ten opzichte van de Euronormen of de publicaties die truckfabrikanten tot dusverre hebben gedaan met betrekking tot het brandstofverbruik. ''Een belangrijk voordeel van deze ontwikkeling is dat je als klant, als vervoerder en natuurlijk ook als verlader, een redelijke, merkonafhankelijke indicatie hebt van het brandstofverbruik van de truck die je van plan bent aan te schaffen. Wat hierbij nog niet goed genoeg voor elkaar is, dat is het bij elkaar brengen van dergelijke data, zodat je als vervoerder een goed overzicht krijgt van wat er in de markt verkrijgbaar is.''
Trailers
Volgens Chris van Dijk van RAI Vereniging, die VECTO ziet als een welkome methode om de exacte uitstoot te bepalen, komen er in eerste instantie normen voor de meest gangbare typen trailers, waarin de CO2-uitstoot vast wordt gelegd. ''Elke trailer krijgt een certificaat met een CO2-uitstoot getal. Dat is de basis. In de praktijk staan er vaak verschillende trekkers voor, dat is de variabele, waarvan de CO2-uitstoot wordt ondervangen in een label. Bij de trailers gaat het voornamelijk om twee criteria, aerodynamica en gewicht. Met behulp van de stroomlijnhulpen en nieuwe technieken moet een 2,5 % afname van het brandstofverbruik van de gehele combinatie in 2020 gerealiseerd zijn'', aldus Van Dijk, die zegt dat het met de trailers nog wel even duurt eer een en ander in wetgeving is vastgelegd. ''Dat zal op zijn vroegst ergens tussen 2020 en 2022 zijn.'' Riemersma onderschrijft dit. ''In de eerste release van uitstootgegevens, zitten standaard trailers. Later wordt ingezoomd op dedicated trailers, in welke vorm dan ook.'' Van Dijk heeft er vertrouwen in dat van de regelgeving een 'zelfreinigende werking' uitgaat in de markt. ''Nu al, voordat we aan de slag gaan met VECTO, zien we dat Euro VI tot gevolg heeft dat wegtransport vanzelf schoner wordt. Vervoerders en hun klanten streven naar duurzaam mogelijk transport.''
Koeltrailers
Aan koeltrailers is de Europese wetmakers nog niet toegekomen. Maar het spreekt voor zich dat hier met normering en labelling nog vooruitgang kan worden geboekt. Koelmachines worden in het overgrote deel aangedreven door een kleine dieselmotor. Nog lang niet alle koelmachines werken met een CO2-neutraal koudemiddel. Koelmachines die door een gasgestookte motor worden aangedreven zijn ontwikkeling, zowel voor CNG als voor LNG. De mate van lekkage door de jaren heen van koudemiddel is volgens Van Dijk een criterium waarnaar gekeken wordt. ''Het is nog vroeg voor een trailerlabel, maar dit zijn zeker zaken die hierin meegewogen gaan worden. Daarbij hebben de afzonderlijke lidstaten ook nog inspraak in hoe een en ander gerealiseerd kan gaan worden.''
Wanneer?
In 2018 worden de eerste wetsvoorstellen verwacht. De Europese Commissie mikt erop, in 2019 daadwerkelijk voertuigcombinaties zwaarder dan zestien ton te zullen gaan labelen. De EC stelt grenswaarden, maxima dus, aan wat en voertuig mag uitstoten. Later worden de data bekend van een norm voor trailers. Dus geen wet, maar een norm voor trailers. In 2019 is het dan de beurt aan bussen en de lichtere trucksegmenten van 7,5 tot en met 16 ton GVW. In de periode van 2020 tot 2022 volgt dan een certificeringsperiode voor trailers en carrosserie opbouwen. Hier wordt vooralsnog uitgegaan van een norm. Of die wordt aangescherpt tot een wettelijk voorschrift, is nu nog niet bekend. Evenmin is al bekend wat er staat te gebeuren met de milieu interpretatie van de voertuigcategorie van 3,5 tot en met 7,5 ton. Vaak hebben die ook een opbouw. Als bekend is het bestelautosegment al wel helemaal voorzien van CO2-uitstootwaarden, maar dit zijn getallen die fabrikanten nu opgeven.

De RAI Vereniging stelt dat naast deze gang van zaken de betreffende lidstaten hun motorrijtuigenbelastingstelsel om zullen bouwen zodat ze 'matchen' met de CO2-uitstoot. Dat wordt het belastingscriterium en niet het voertuiggewicht of iets dergelijks.
Na 2030
Het uitgangspunt van de VECTO-opzet is om te komen tot de door Brussel gewenste reductie in CO2-uitstoot in het wegtransport. Dat houdt in dat er in de periode 2030 tot en met 2050 ook nog stappen gezet moeten worden op technisch vlak. Van Dijk: ''Dan gaan we richting de energie genererende assen, zoals we die nu op de New Cool trailer zien van Twan Heetkamp, maar dan op een vel grotere schaal. En na 2030 gaan we ook meer zien van hybridisering van de aandrijflijn van zware trucks. Sommige truckmerken werken nu aan de ontwikkeling van zulke aandrijflijnen.''