Eerste elektrische MAN trucks de weg op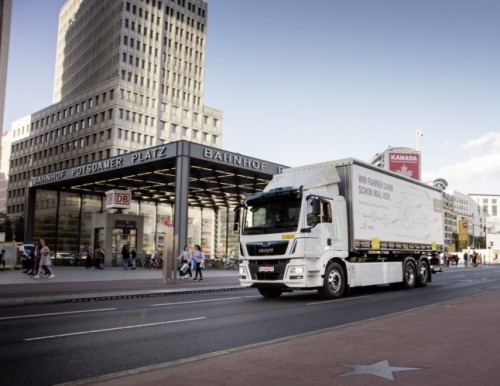 Deze week zijn de eerste negen volledig elektrische MAN e-trucks in Oostenrijk de weg op gegaan. Daarmee heeft MAN het startsein gegeven voor een omvangrijke praktijktest met elektrisch aangedreven e-trucks.
De nieuwe elektrische testvoertuigen omvatten vier 26 tons 6x2-4 chassis met geconditioneerde opbouw met elektrische transportkoeling, drie 6x2-4 chassis voor wissellaadbakken, één 6x2-4 met opbouw voor drankdistributie en een 4x2-distributietrekker. Het zijn voertuigen die het meest binnen de distributiesector in stedelijke gebieden worden ingezet.
TGM als basis voor MAN's e-truck
De chassis van de e-trucks van MAN zijn gebaseerd op die van de MAN TGM. De elektromotor die centraal in het frame is geplaatst, levert 264 kW en maximaal 3.100 Nm koppel aan de aangedreven wielen zonder dat de chauffeur hoeft te schakelen. De lithium-ion batterijen bevinden zich onder de cabine, tussen de langsliggers en aan de zijkant van het frame. In de 26-tons chassisversie zijn in totaal twaalf batterijpakketten geïnstalleerd die zorgen voor een actieradius van maximaal 200 kilometer. Bij de 4x2 trekker kunnen door de korte wielbasis maximaal acht batterijpakketten worden gemonteerd waarmee het bereik kan oplopen tot 130 kilometer.
Alle testvoertuigen hebben rondom luchtvering, waardoor de trucks op elke losplek in stedelijke gebieden in hoogte zijn aan te passen en de wissellaadbakken op en af te zetten zijn. Comfortverhogende zaken en voertuigfuncties als de airconditioning en stuur- en luchtcompressor worden eveneens elektrisch aangedreven. Hetzelfde geldt voor de laadkleppen en koelmotoren. Bij gas los en het afremmen wordt bewegingsenergie omgezet in elektrische energie die terugvloeit naar de batterij. Een display in de cabine informeert de bestuurder over het energieniveau van de batterijen. Het is mogelijk om de batterijen op te laden met AC (22 of 44 kW) of DC (150 kW). Uiteraard valt of staat een maximale bruikbaarheid bij een slimme en efficiënte routing van voertuigen.
MAN eMobility Road Map
De praktijktests met de MAN e-trucks – in samenwerking met de bedrijven van de Raad voor Duurzame Logistiek in Oostenrijk – maken deel uit van de veelomvattende eMobility Road Map van MAN. De tests die nu in Oostenrijk van start gaan, vormen de basis voor toekomstige elektrische truckprojecten en de massaproductie hiervan.