Fiat eDucato: Regeneratiekampioen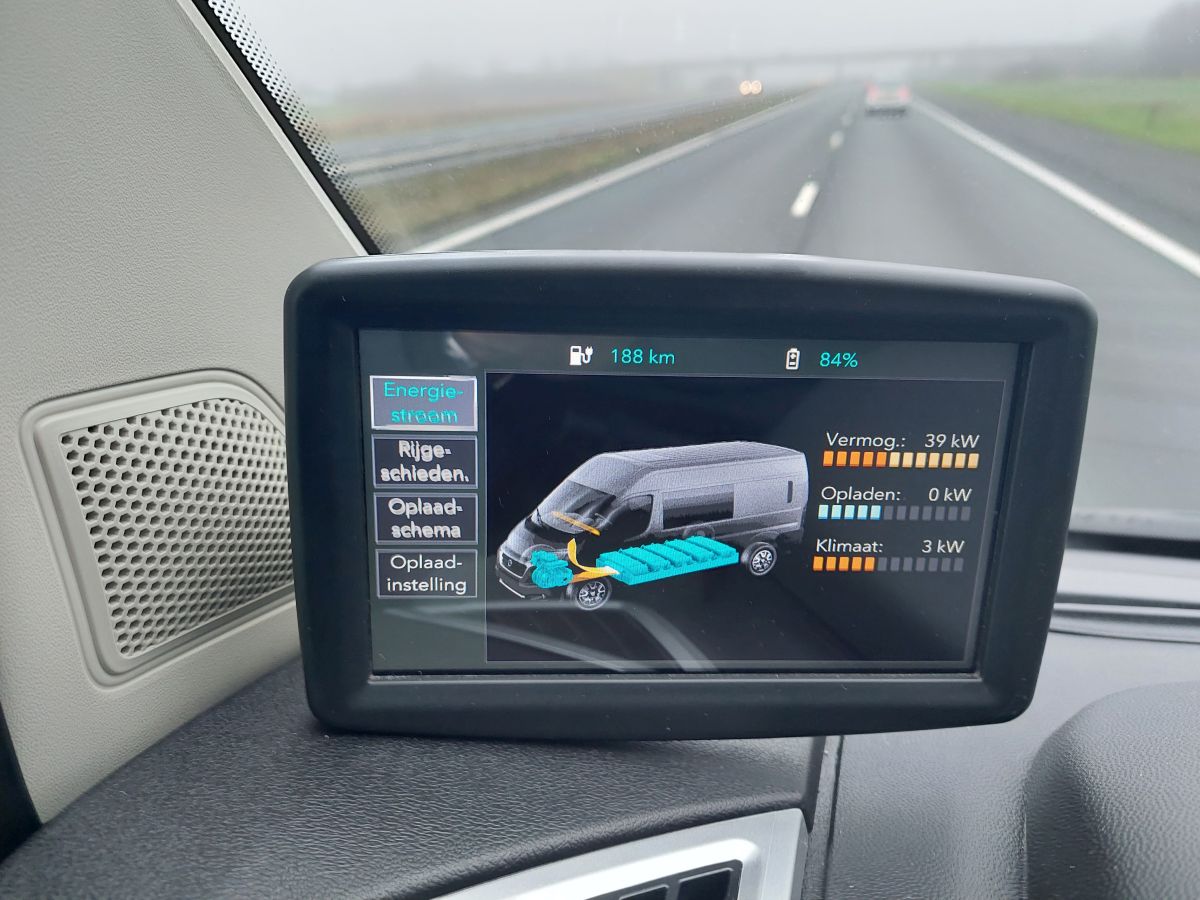 Fiat volgt binnen Stellantis een eigen koers waar het elektrische aandrijving betreft. Dat levert een batterij op die wat sterker mag getuige het verbruik, maar die beschikt over een bijzonder slim regeneratiesysteem. 
Fiat is er lekker vlot bij door nu al een elektrisch aangedreven Ducato te kunnen leveren. We waren nieuwsgierig natuurlijk. Fiat bediende ons snel: deze eDucato stond nog op Italiaans kenteken. Meest opvallende verschil met de 'diesel-Ducato' is dat deze elektrische een display heeft die is opgebouwd bovenop het dashboard, waarop je precies kunt zien wat de elektrische aandrijflijn doet. Ook zie je dat het klimaatsysteem in de cabine een grootverbruiker is, dus probeer je al gauw zo economisch mogelijk met de airco en verwarming in het cabine-interieur om te gaan.
Vertrouweling
Het spreekt voor zich dat de Ducato een bekende verschijning is op onze wegen en dat deze bestelauto in deze gedaante al lang een vertrouweling in menig koeriersdienst of mkb-bedrijf is. Dus Fiat beperkt het uiterlijk vertoon van de elektrische versie tot een paar aanduidingen en dat is het dan. Daar waar je gewend was te tanken, bij het bestuurdersportier, moet je nu stekkeren. Daarmee laad je naar keuze een batterijpakket op van 47 kWh, goed voor 235 km actieradius of een batterijpakket van 79 kWh, goed voor 370 km actieradius. Wij zouden laatstgenoemde hebben. Maar in dat geval is het systeem nog best gevoelig voor kou. Na een laadsessie, het was januari, was er nooit meer dan 250 km actieradius beschikbaar, en dat maakt je ritten in plannen lastig. Ook beperkt het je flexibiliteit, want even een ritje tussendoor kan eigenlijk niet, mits de laadsessie al geëindigd is.  
Geen snelwegheld
Op de snelweg is de eDucato prima in staat om met de snelheid van het verkeer mee te komen. Het is dan wel zaak om even het Power-rijprogramma in te schakelen. Andere rij-programma's limiteren de prestaties van deze eDucato flink en zijn echt alleen bedoeld voor stadsverkeer en binnenwegen. De geteste eDucato had een korte wielbasis en een hoog dak. Dat laatste helpt niet mee op hollandse snelwegen in wintertijd: de display die Fiat zo mooi heeft ingebouwd, gaf verbruiken aan van 30 kW en meer. Dat betekent flink inleveren met de actieradius. Het is dus zaak om eerst voor je aan de rit begint, te verifiëren of er bij de eindbestemming weer gestekkerd kan worden. In ons geval kon dat en dat zou later nog van pas komen.
Halen we het?
Door omstandigheden lukte het na de meeting niet om te laden bij Fastned. Maar redden we het met wat we bij de klant hebben kunnen laden? Het zou moeten gaan, want bij een eerdere rit op binnenwegen en in stedelijk gebied, viel al op dat de eDucato zuinig met elektriciteit omspringt en dat de aandrijflijn flink weet te regenereren, waar je vroeger gewend was om de energie weg te remmen. Al snel bleken deze aannames juist.
Flink regenereren
De eDucato lijkt op binnenwegen wel geen energie te verbruiken. Dat is natuurlijk niet zo, maar deze bestelauto liet wel heel mooie waarden zien, waardoor het de eerste 15 km van de binnendoorrit, waarbij we door twee dorpen netjes 50 reden, nauwelijks te verbruiken. Met een riante reserve kwam de bestuurder probleemloos thuis en bleek de eDucato aan de normale publieke laadpaal gewoon weer op te laden. De conclusie is dat de eDucato het beste tot zijn recht komt in regionaal en stedelijk verkeer. Voor de snelweg is elektrische techniek, zeker in de winter, nog moeilijk voorspelbaar en zul je toch op de dure kilowatturen van Fastned aangewezen zijn.
Laadvermogen
Tot slot nog een woord over gewichten: Er is duidelijk verschil in het leeggewicht tussen het kleinere 47 kWh pakket en dat van 79 kWh. Dat scheelt in ons geval zo maar 315 kg. En daarmee een dito laadvermogen. Dus met het kleinere batterijpakket kan deze eDucato 1165 kg laden en met het grotere pakket nog 820 kg. Dat scheelt dus nogal. Reden waarom Fiat ook een versie op 4250 kg GVW op kenteken zet, het hogere toegestane gewicht voor elektrische voertuigen in deze bestelautoklasse. Dan komt de eDucato op 70.500 euro excl. BTW en dat is voor ondernemers nog een flink bedrag. Met het kleinere batterijpakket is het nog 53.000 euro. Getuige de verwachte levensduur en het feit dat je meteen alle zero-emissiezones straks in mag, zou je wellicht beter kunnen leasen.
Tim de Jong