Low Deck Iveco trekker op LNG voor Van der Wal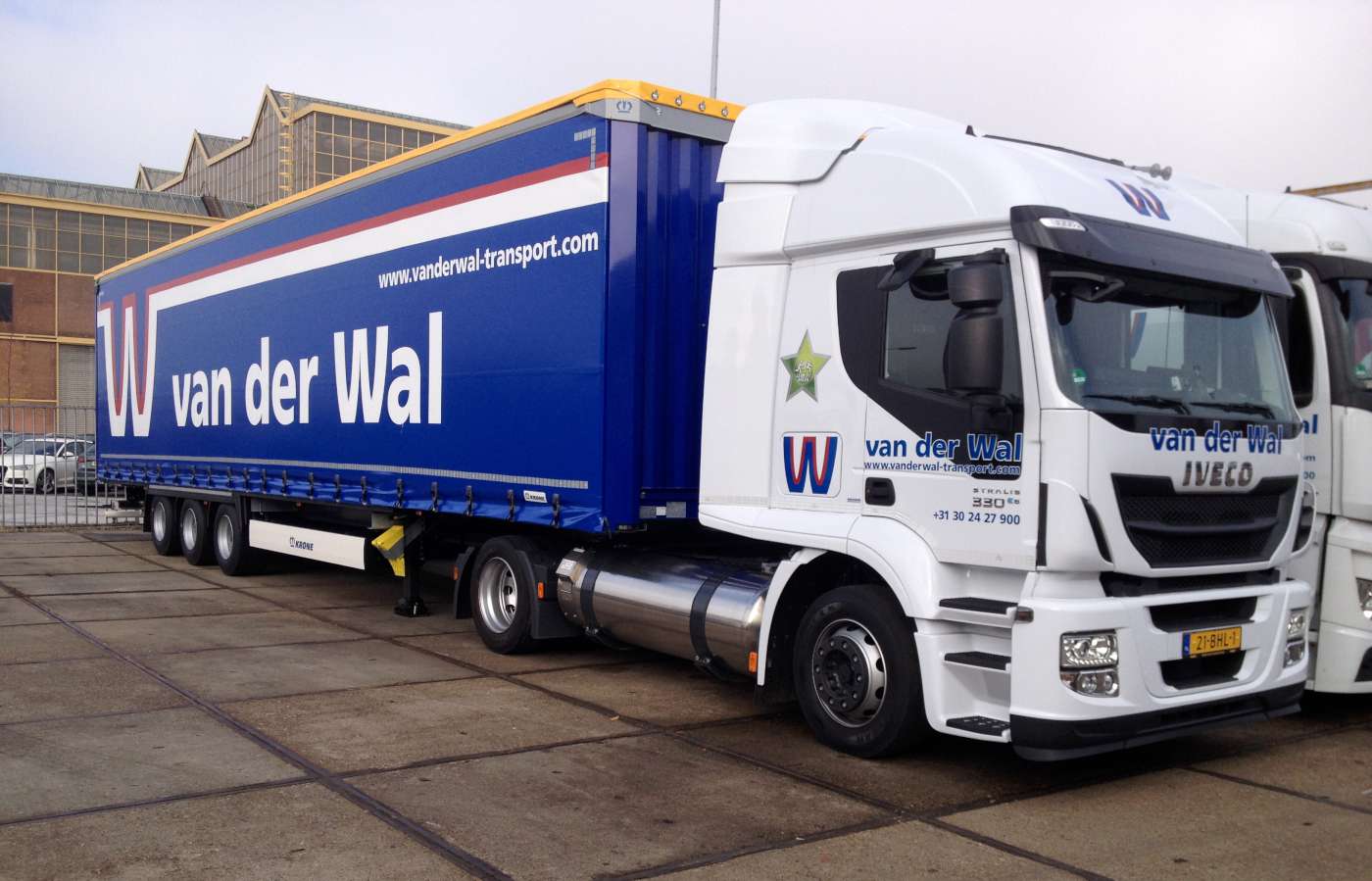 Van der Wal Transport uit Utrecht heeft een trekker met een lage koppelhoogte, een zogenaamde Low Deck trekker op LNG in gebruik genomen.
De trekker wordt aangedreven door een 330pk en 1700Nm krachtige 8-liter aardgasmotor, en is voorzien van twee LNG-tanks waardoor een actieradius van 1100 kilometer kan worden gehaald. De IVECO Stralis is uitgevoerd als low-deck trekker, zodat Van der Wal Transport B.V. dit voertuig kan inzetten in combinatie met megatrailers. "Door de inzet van dit voertuig met zeer lage emissiewaarden in combinatie met volumetrailers en het reduceren van lege kilometers, slaan we dubbele slagen," aldus eigenaar Henk van der Wal.
Van der Wal Transport B.V. voelt zich verplicht om bij te dragen aan een beter milieu en heeft daarom een sterke focus op o.a. het reduceren van CO2-emissie. Van der Wal bezit daarom over een modern wagenpark met verschillende LZV's en megatrailers. Daarnaast wordt het aantal lege kilometers tot een minimum gereduceerd. De keuze voor de IVECO Stralis Hi-Road LNG past volledig binnen de duurzame strategie van het Utrechtse bedrijf. Directeur Henk van der Wal: "Dit nieuwe voertuig heeft betere emissiewaarden dan dieseltrucks. Samen met collega transportbedrijven en verladers, waaronder Kimberly & Clark in Ede, zetten we al onze voertuigen zo efficiënt mogelijk in om brandstofverbruik en het aantal lege kilometers te reduceren. Met de IVECO LNG slaan we nog een extra duurzame slag."
De inspanningen van Van der Wal Transport B.V. om haar CO2-emissie te verlagen hebben in 2014 geleid tot het ontvangen van een Lean and Green Star. Deze prijs wordt uitgereikt aan logistieke bedrijven die hun CO2-doelstelling in het kader van het Lean and Green programma hebben bereikt (20% CO2-reductie binnen 5 jaar). In 2008 was Van der Wal Transport B.V. tevens het eerste bedrijf dat samen met een verlader de Lean and Green Award won. Verlader Rockwool en Van der Wal werden met deze prijs beloond voor de unieke branche overschrijdende samenwerking om de transportactiviteiten te verduurzamen.