DSV ziet business case in DAF CF electric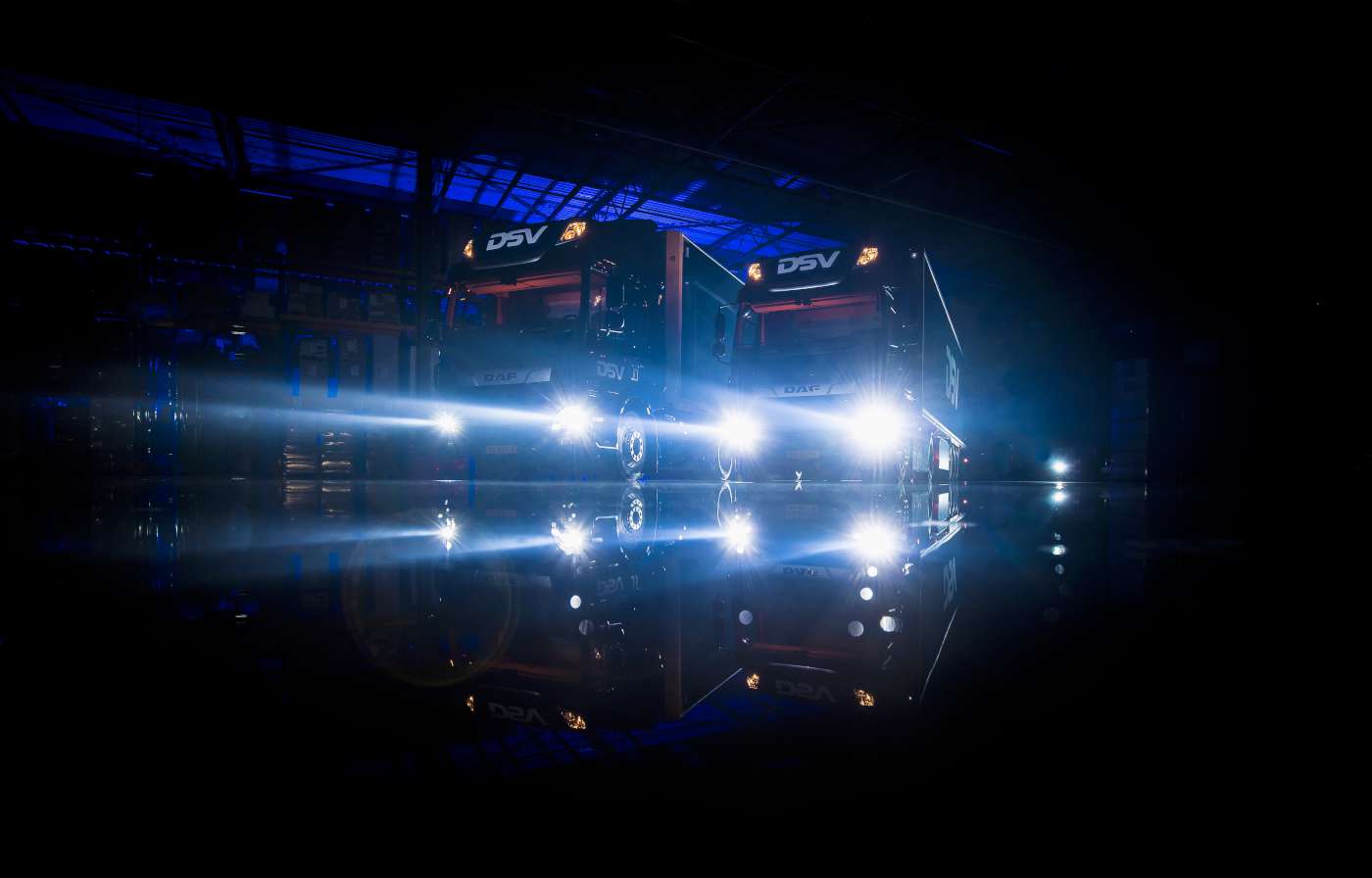 Elektrische trucks inzetten zonder subsidie lijkt commercieel lastig, of toch niet? De divisie Air & Sea van DSV in Nederland heeft een business-case ontwikkeld waarmee twee DAF CF Electric trekkers op termijn goedkoper in gebruik zijn dan dieseltrucks. Het break-even punt ligt volgens eigen berekening bij 7 jaar, met dank aan energie van zonnepanelen, een strakke rij- en oplaadplanning en inzet van de trucks in dubbele shifts.
"Medio 2020 zijn we verhuisd naar een nieuw pand op bedrijventerrein De Schakel in Eindhoven waar we 7.000 zonnepanelen op het dak hebben liggen om CO2­­-neutraal te kunnen opereren", vertelt Gijs Peeters, Director Airfreight bij DSV Air & Sea Nederland. "De panelen passen in het verduurzamen  van de supply chain waarin DSV investeert en dat is ook de reden van de aanschaf van de elektrische trucks."
"We zijn bij DAF uitgekomen, omdat de CF Electric met zijn praktijkactieradius van ruim 200 km past bij de werkzaamheden die we met elektrische trekker-/trailer combinaties willen doen. In de beginfase gebruiken we de combinaties voor het transport in de regio Eindhoven."
De trucks zullen rijden tussen de warehouses van hightech bedrijven in Eindhoven en omstreken. Dat zijn bedrijven die duurzaamheid en CO2-neutrale bedrijfsvoering ook zelf hoog in het vaandel hebben en graag een groene supply chain willen.
Business-case met zonnestroom en hoge inzetbaarheid
Peeters: "Nu gaan we ervaren hoe alles in de praktijk gaat en ook hoe we de inzetbaarheid kunnen optimaliseren. DSV heeft door zijn omvang en internationale spanwijdte in transport de mogelijkheden om de investering in deze elektrische trucks te doen zonder subsidie. DSV heeft subsidie aangevraagd op basis van de DKTI-regeling maar is niet ingeloot. Wij zijn in gesprek met de Rijksdienst Voor Ondernemend Nederland (RVO) om toch in aanmerking te komen voor de nieuwe subsidieregeling die eraan komt. Bij een afschrijving van de trucks inclusief laadinfra over 7 jaar is onze business-case bottom line positief, maar dan wel inclusief subsidie. DSV wil als organisatie haar steentje bijdragen in het verduurzamen van transport, vanuit die gedachte delen wij onze learning by use informatie met de markt."
Ook naar Schiphol
In de toekomst zullen de DAF CF Electric trucks in de nacht ook vracht van en naar Schiphol vervoeren. Daar heeft DSV een warehouse van 20.000 m2. Door de trucks in meer shifts te gebruiken, dus overdag in de regio Eindhoven en in avond en nacht tussen Schiphol en Eindhoven is een betere bedrijfsmatige benutting mogelijk en is de terugverdientijd van de extra investering tevens korter. Peeters: "Op deze manier kunnen we met deze twee elektrische trucks evenveel ritten doen als met 4 dieseltrucks. Ook dat is meegerekend in de businesscase."
Laadinfrastructuur door DAF verzorgd
DAF heeft ook de laadinfrastructuur bij DSV verzorgd. Het gaat om twee laadvoorzieningen die bij de buitenste docks zijn geplaatst. Lucas Willems, Fleet Sales Manager DAF Nederland: "Die worden volledig gevoed door energie van de zonnepanelen. Het gaat om de krachtigste laadpalen die er zijn. Het maximale laadvermogen is 350 kWh als een truck oplaadt. Als de twee trucks tegelijk laden dan levert elke paal maximaal 175 kWh." 
Het opladen gebeurt tijdens het laden en lossen. De trucks staan dan lang genoeg aan het dock om voldoende op te laden. Peeters: "Vooral omdat ze toch nooit met een nagenoeg lege accu daar staan maar doorgaans met nog 40% geladen accu. Dan is opladen naar 80% in ongeveer een uur mogelijk. En bij de transporten straks van luchtvracht naar Schiphol kunnen we in de nacht opladen bij een naburig laadstation in de regio Schiphol. We koppelen dan de trekker af van de trailer, zodat de DAF CF Electric twee uur kan laden. Zo lang duurt doorgaans het in- of uitladen van luchtvracht."
Rij impressie DAF CF electric in BIGtruck, klik hier!