Elektrisch rijden vraagt soms om beleid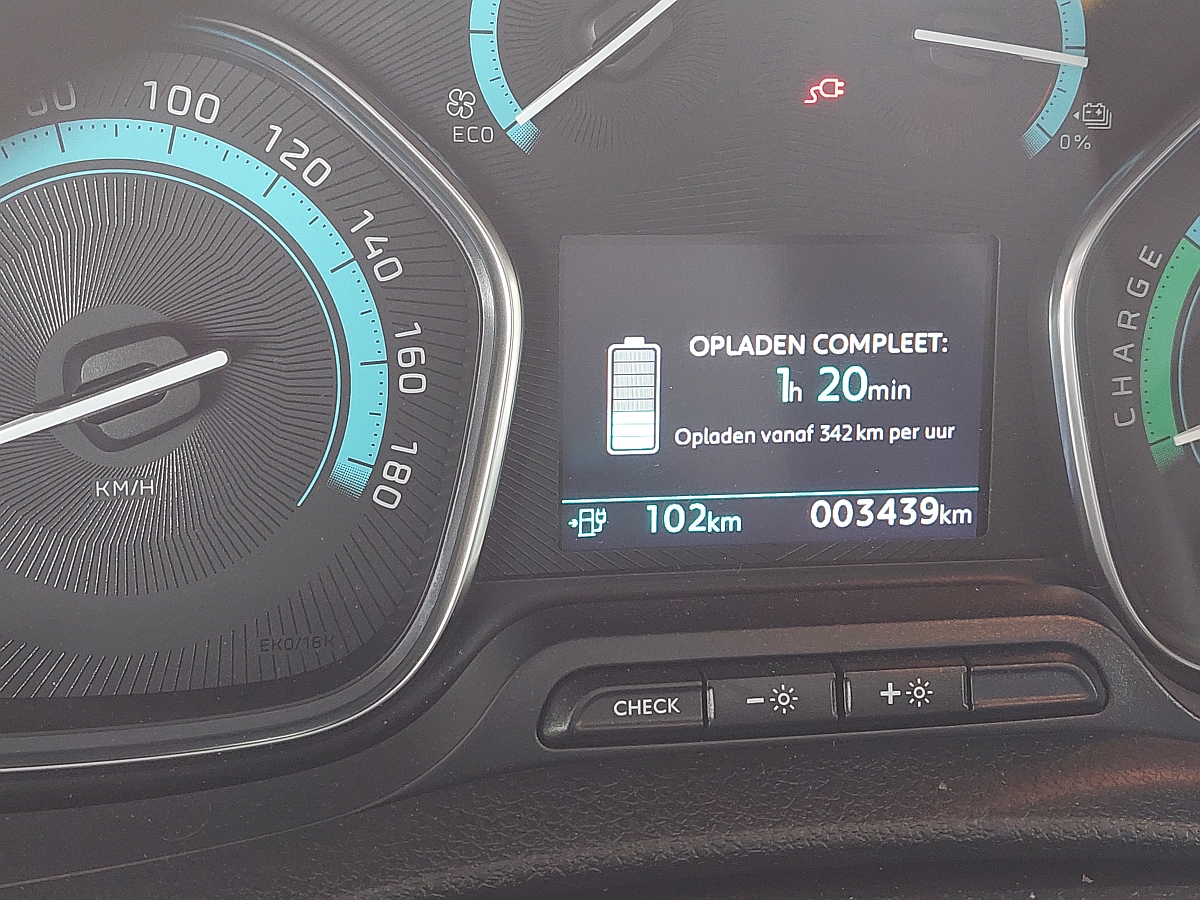 Zoals bekend maakt Opel sinds kort deel uit van de groep waarin ook Peugeot en Citroën en sinds kort ook Fiat verenigd zijn. Daardoor reden we al eerder met elektrisch aangedreven voertuigen van de Stellantis groep. De reden om toch ook even de Opel mee te nemen, zit hem in de verbruiksverschillen die we constateren. Ook het opladen roept soms nog vragen op.
Een ding is duidelijk. De merken van de Stellantis-groep hebben een voorsprong: zij kunnen in de populaire klassen van eentonners en de kleinere koeriersauto's van bijna elk merk een elektrische variant leveren.  Het bereik van deze bestelauto's is 200 of zo de klant wil ruim 300 kilometer. Daarmee doet Stellantis met de merken Peugeot, Citroën, Opel en met Toyota en Fiat een gerichte gooi naar marktleiderschap op de Europese bestelautomarkt. Op dit moment kan alleen Mercedes-Benz ook enkele elektrische bestellers leveren, maar bijvoorbeeld nog niet het kleinste model. Renault bevindt zich nu ook net in een modelwissel die leidt tot een veel meer volwassen Kangoo-model, maar de elektrische variant komt pas volgend jaar. Ford en VW zijn nog niet aan elektrische bestelauto's toe. De samenwerking vergt een intensief traject van het op elkaar afstemmen van projecten en capaciteiten. 
Keuze
De Opel Vivaro-e heeft een elektromotor die 100 kW (136 pk) vermogen en 260 Nm koppel naar de voorwielen stuurt. De topsnelheid is elektronisch begrensd op 130 km/u. De actieradius is afhankelijk van de gekozen batterij. De Vivaro-e is leverbaar met een 50 of 75 kWh-batterij, goed voor een actieradius van 230* of 330* kilometer (WLTP). De levering van de Vivaro-e Combi met 75 kWh-batterij is inmiddels begonnen. De Vivaro-e Combi met 50 kWh-batterij zal al vanaf november dit jaar leverbaar zijn.
De lithium-ion batterij bestaat uit 18 (50 kWh) of 27 modules (75 kWh) en bevindt zich ónder de laadruimte, zodat er geen invloed laad- of cabineruimte hoeft te worden ingeleverd. Bovendien zorgt deze plek volgens Opel voor een lager zwaartepunt, wat natuurlijk een gunstig effect heeft op de stabiliteit van het voertuig. Een regeneratief remsysteem, dat tijdens remmen en vertragen energie terugwint, verhoogt de efficiency. Opel geeft een maximum vermogen op van 136 pk.
Rijpraktijk
Het rijden is zo neutraal en stil als het maar kan. Wennen is het dat de aandrijflijn soms sneller zijn actieradius afbouwt dan dat de kilometerteller optelt, en soms niet. Volgens Opel ligt dat aan de manier van rijden: Al dan niet de airco aan en de radio, de mate van constant rijden en het aandeel stadsverkeer. Hoe dan ook, we hebben de indruk dat het wel wat stabieler kan, afgaand op ervaringen met elektrische bestelauto's van andere merken. Opel zegt: Het voertuig geeft zijn kilometrage af op basis van het gemiddelde verbruik. Als dit hoger ligt omdat er lange stukken snelweg is gereden voor de laadsessie, dan zorgt dit ervoor dat de actieradius bij wegrijden dan lager ligt. Indien in de eerstvolgende kilometers dan weer zuiniger gereden wordt dan zie je ook dat de actieradius bijvoorbeeld toeneemt in plaats van afneemt."
Laden
Volgens fabrieksopgave heeft de Vivaro-e een actieradius van 330 km. Maar bij het laden lukt het niet een keer in de testweek om tot deze acteradius te komen. Het is 304 km en daarmee is de koek op. De paal geeft een groen lampje (laadsessie beëindigd) ten teken dat de stekker er weer af kan. Ook hier zegt Opel dat de rijstijl van invloed is en dat de range wordt weergegeven op basis van gemiddelde verbruik.
Ander punt is dat niet overal waar de bestuurder heen gaat, in de wetenschap dat hij ergens een laadpaal kan vinden,  deze ook daadwerkelijk te gebruiken is.  Dit lukte een keer niet. Vervolgens de rit gemaakt naar een Fastned station langs de snelweg. Dit bleek een uitkomst. De batterij van de Vivaro-e was met een half uur alweer op tachtig procent. Hierbij zij aangetekend dat niet alle bestelauto's over een stekker beschikken waarmee fast charging zoals dit heet, uitvoerbaar is. Dus dat zijn dan weer punten voor Opel.
Zo bleek de Vivaro-e toch een handige kompaan die meehielp om een aanzienlijk aantal duurzame, emissievrije kilometers te realiseren. Maar het blijft nog flink opletten geblazen met actieradius, laadmogelijkheden en de planning van ritten. Hij kost 41.000 euro excl. BTW en BPM. Dan zitten er nog weinig extra's op. Maar wanneer je je kilometrage kent en dat afzet tegen het feit dat je geen anderhalve euro per liter diesel meer hoeft neer te tellen, dan kun je berekenen wanneer de Vivaro-e zich terugverdient.
Tim de Jong