Laatste VW Caddy maakt indruk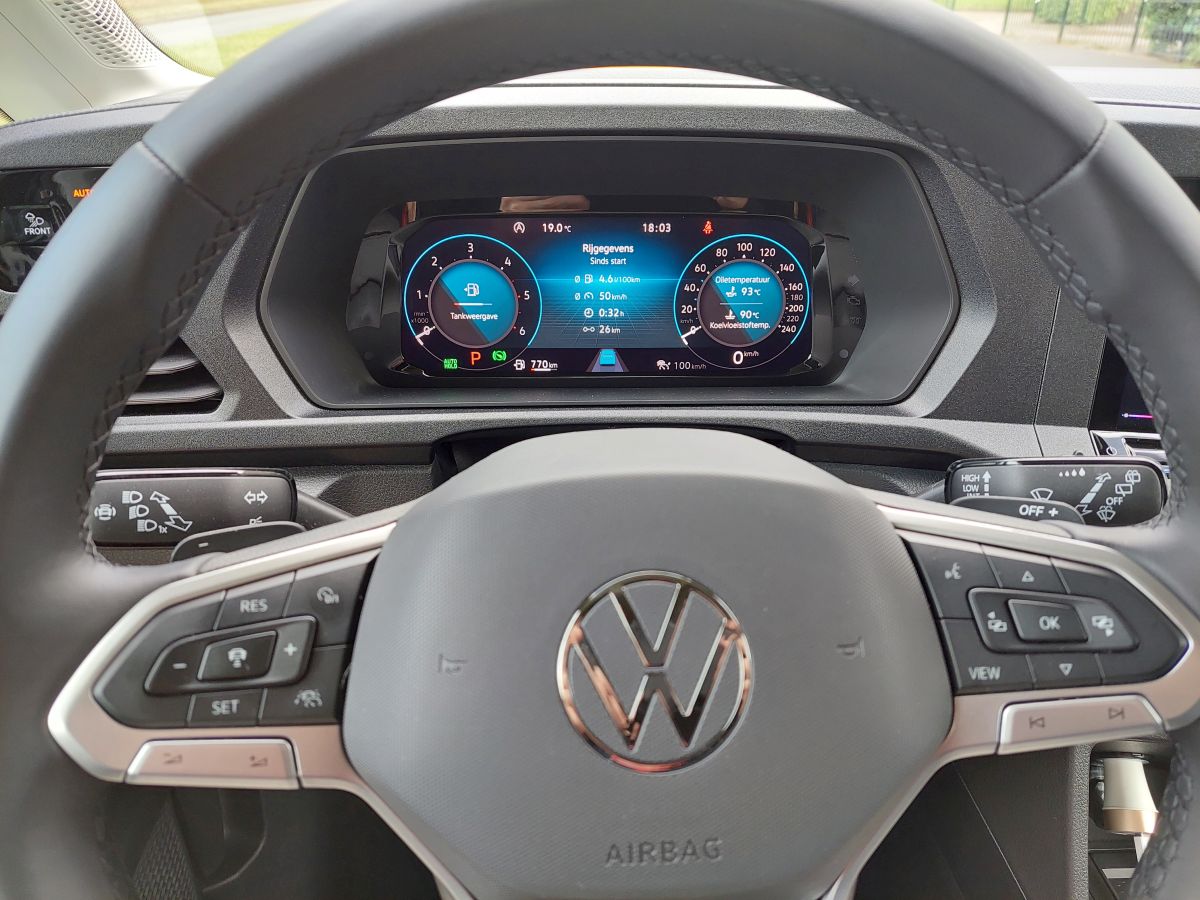 Volkswagen staat voor een nieuw tijdperk met betrekking tot de lichte bedrijfswagens. Door de samenwerking met Ford, komen er nieuwe bestelauto's, net op het moment dat elektrificering een must is geworden. Tot de tijd verkoopt Volkswagen deze Caddy, die gewoon een twee liter dieselmotor en een DSG-automaat heeft.
Maar deze Caddy is wel helemaal nieuw. Een duidelijk voorschot, nu VW met de hele industrie aan de vooravond staat van een ongekende revolutie. VW heeft met Ford afgesproken dat het in het koerierssegment het voortouw neemt. Dat zou kunnen betekenen dat deze Caddy nog geruime tijd in productie blijft en dat er achter de coulissen aan een vol-elektrische variant wordt gewerkt. Bij dit nieuwe ontwerp is al duidelijk rekening gehouden met wat komen gaat. Wie al eens met een VW ID3 heeft gereden, begrijpt wat ik bedoel. Het volstaat om over de symbolen die je ziet met je vingers te bewegen, waar je voorheen knoppen had zitten. Dat scheelt natuurlijk in onderdelen. Knoppen zitten eigenlijk alleen nog op het stuurwiel. Het digitale dashboard werkt erg leuk. Het geeft subtiele commando's en het laat perfect zien wat je als bestuurder onderweg weten wilt. De bediening van het grote scherm rechts van het dashboard is eveneens kinderspel. Met deze Caddy zet VW een maatstaf neer van wat er tegenwoordig allemaal aan assistentiesystemen op auto's zit. In dat opzicht profiteert de Caddy van de modernst beschikbare autotechniek. Maar dankzij zijn unieke ontwerp, blijft ook deze Caddy gewoon duidelijk als zodanig herkenbaar. En dat is knap.
Subtiel ontwerp
Op het eerste gezicht lijkt de nieuwe Caddy een wat inspiratieloos rijdoosje. Maar wie goed kijkt ziet steeds meer ronduit fraaie details. Dat begint al met het gesloten frontje. Het lijkt makkelijk getekend, maar het ziet er bij nader inzien echt goed uit. De zijkant idem dito. De achterlichten zijn een unicum en zijn voorzien van leuke details. Er zit een unieke belijning in de zijpanelen. Dit alles zonder ook maar een millimeter in te leveren aan laadruimte of een kilogram aan laadvermogen. Nog steeds kan de Caddy 720 kg laden en mag nog eens anderhalve ton aanhangwagengewicht trekken. Dit komt mede door de achteras die met een in alle eerlijkheid ouderwetse, maar effectieve panhardstang is uitgerust. Die biedt stabiliteit en laadvermogen, maar ook ruimte voor bijvoorbeeld vierwielaandrijving en wat al niet meer. 'Innovatief' is de panhardstang allerminst, maar effectief zeker.   
Twee liter diesel
Ronduit conventioneel is de twee liter dieselmotor in combinatie met de zeventraps DSG-bak. Maar het rijdt heerlijk. Bovendien blijft met deze aandrijflijn het interieurgeluid riant binnen de perken. Het is eigenlijk net als bij een elektrische bestelauto: je hoort alleen windgeruis en bandengeluid. De motor hoor je alleen als je wat stevig optrekt. Met fijne stoelen en neutraal sturen voelt de Caddy op korte oneffenheden stug aan. Daardoor rijd je automatisch wat rustiger over drempels.
Assistentiesystemen
De Caddy heeft tal van assistentiesystemen. Die herinneren je eraan dat je al van het gas af kunt wanneer je op een rotonde aanrijdt. De adaptieve cruise control  doet zijn werk. Maar de LWS, die zorgt dat de Caddy en zijn bestuurder binnen de lijntjes blijven, is nog niet uitontwikkeld. Hij stuurt te hard terug. Tel daarbij op dat de dode hoek beveiliging ook te abrupt ingrijpt, ook wanneer een andere weggebruiker nog duidelijk ver genoeg achter de Caddy zit. Systemen als deze dragen te weinig bij aan de veiligheid, je zou bijna zeggen in tegendeel. Adaptieve cruisecontrol is, nu corona voorlopig voorbij is, maar beperkt inzetbaar in ons land. Het is gewoon te druk. Verkeersbordherkenning is er ook, voor diegenen die dat wensen. Ondanks alles kwam deze Caddy tot een indrukwekkend verbruik, waarbij alle kilometers door omstandigheden met een lege auto werden afgelegd. Met 1 op 22 laat de Caddy zien dat de diesel nog altijd doorontwikkeld wordt.  
Laatste Caddy?
De vraag is nu hoe in samenwerking met Ford Volkswagen de transitie naar elektrisch in gaat. Voorlopig ligt dit merk achter op de Stellantis-groep en deels ook op aartsrivaal Mercedes-Benz.  Het heeft er de schijn van dat deze Caddy een grote ID3 is waar alleen 'even' een andere aandrijving in moet, bijvoorbeeld die van de ID3. Of dat zal gebeuren en wanneer, is vanzelfsprekend nog niet bekend. Maar deze Caddy laat zien dat VW al een eind op streek is.
Tim de Jong