Met de Mercedes Citan naar Hannover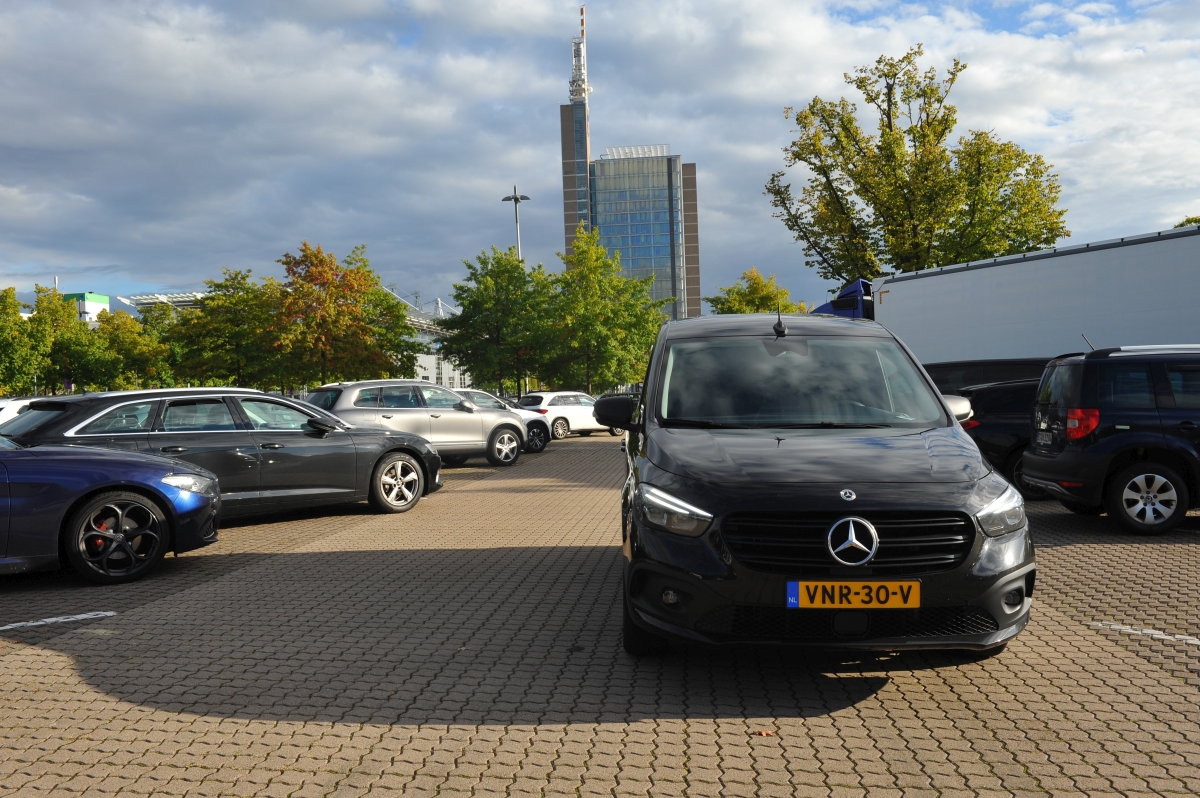 Een rit naar Hannover bood de gelegenheid om de vorig jaar ingrijpend vernieuwde Mercedes Citan aan een praktijktest te onderwerpen.
Mercedes heeft zijn uiterste best gedaan om de Citan zo Mercedes-mogelijk eruit te laten zien. Zeker aan de voorkant is dat gelukt, en ook in het interieur. Maar monteer dan ook even een paar achterlichten die afwijken van wat Renault op de Kangoo schroeft, want de gelijkenis met de Franse auto valt dan niet meer te ontkennen, mits je een doorgewinterde complotwappie bent. Is dat erg?
Comfort
Al meteen bleek van niet. Het comfort  went wel heel snel, heerlijk. Zodanig, dat je begint te verlangen naar een automaat, maar OK, dat kan ook het gevolg zijn van de leeftijd van de auteur. De Citan is levendig, rijdt fijn, reageert goed en biedt inzittenden een fijne stoel, voldoende scherpe besturing. Snelwegritten worden rustmomenten omdat de cruise-control  het nodige werk doet, en er aan boord een aangenaam muziekje ingeschakeld kan worden. De display tussen de traditionele klokken in het dashboard geeft aan hoe zuinig er gereden wordt, en dat bleek al gauw richting de 1 op 20 te zijn. Ook verwarming, ventilatie en airco laten zich heel eenvoudig bedienen en zo weet elke berijder van de Citan makkelijk de gewenste instelling te vinden. Ook de knopjes op het stuur wennen snel. Voor je het weet zijn dat de enige waar je mee werkt.
Lekkere afstand
We vertrokken voor een rit naar de IAA in Hannover. Het was beestenweer. Toch bleef in de cabine van de Citan alles pais en vree en pas ter hoogte van Rheine, een kilometer of dertig na de grens, werd het droog. Beetje meer gas geven dan maar. Voor we het weten begeven we ons tussen degenen die om volstrekt onduidelijke redenen erg hard rijden. Misschien omdat er op de dag van de heenreis geen vrachtwagens op de Duitse snelwegen mogen rijden. In Porta Westfalica, een oude Romeinse nederzetting en nu een vreedzame Autohof, besluit ik maar eens te tanken, dat scheelt weer voor de terugweg. De brandstofmeter, ik moet eigenlijk zeggen lampjes, suggereren dat ik nog wel heen en weer kom op deze tank. Maar ik wil toch een beetje weten wat het verbruik is. Dat bleek 1 op 15,9 te zijn. Met zo'n verbruik kun je gerust lange afstanden afleggen met een Citan waarvan de inhoud van de brandstoftank niet al te groot is en waarvan de 1,5 liter motor 90 pk levert. Mooie waarden, het geluk zit' m niet altijd in grote getallen. 
Bundesstrasse
Op de terugreis willen we files vermijden, dus vanaf het uitgestrekte Messe-terrein, sporen we een provinciale weg op, die zeker 20, 30 kilometer van Hannover weer aansluit op de A2 richting westen. Of daardoor het grote verschil is ontstaan. Hoe dan ook de etappe weer richting huis vroeg slechts om de 22 kilometer een liter diesel. Alles bij elkaar geteld verbruikten we 48 liter op 959 kilometer. Heel precies uitgerekend is dat 1 op 19,9. Dat is keurig. De overige cijfers, dus afmetingen en gewichten zien er op het eerste gezicht goed uit. Maar wie beter kijkt: om wat voor reden dan ook bleef het laadvermogen van 'onze' Citan steken op 440 kg. Hoe vaak komt het voor je dat zo'n gewicht aan spullen laadt? Precies, niet vaak, maar het is wel iets om rekening mee te houden. Er zijn ook Citans met een wat hoger laadvermogen, zagen we al. Het drukt de pret van lage kosten voor zoveel comfort in elk geval niet. O ja, er kunnen gewoon twee europallets aan vracht mee.
Tim de Jong
Mercedes Citan 110CDI Pro
Basisprijs: € 18.325,-
Prijs als getest: € 22.450,-  
Techn. Max. massa: 2021 kg
Massa leeg: 1601 kg
Laadvermogen: 440 kg
Toegestaan aanhangwagengewicht: 1500 kg.
Motor: 1460 cc
Vermogen: 95 pk/70kW
Koppel: 260 Nm
Rondom schroefveren.  
Verbruik: 1 op 20