Nieuwe Fiat Scudo in Stellantis-jasje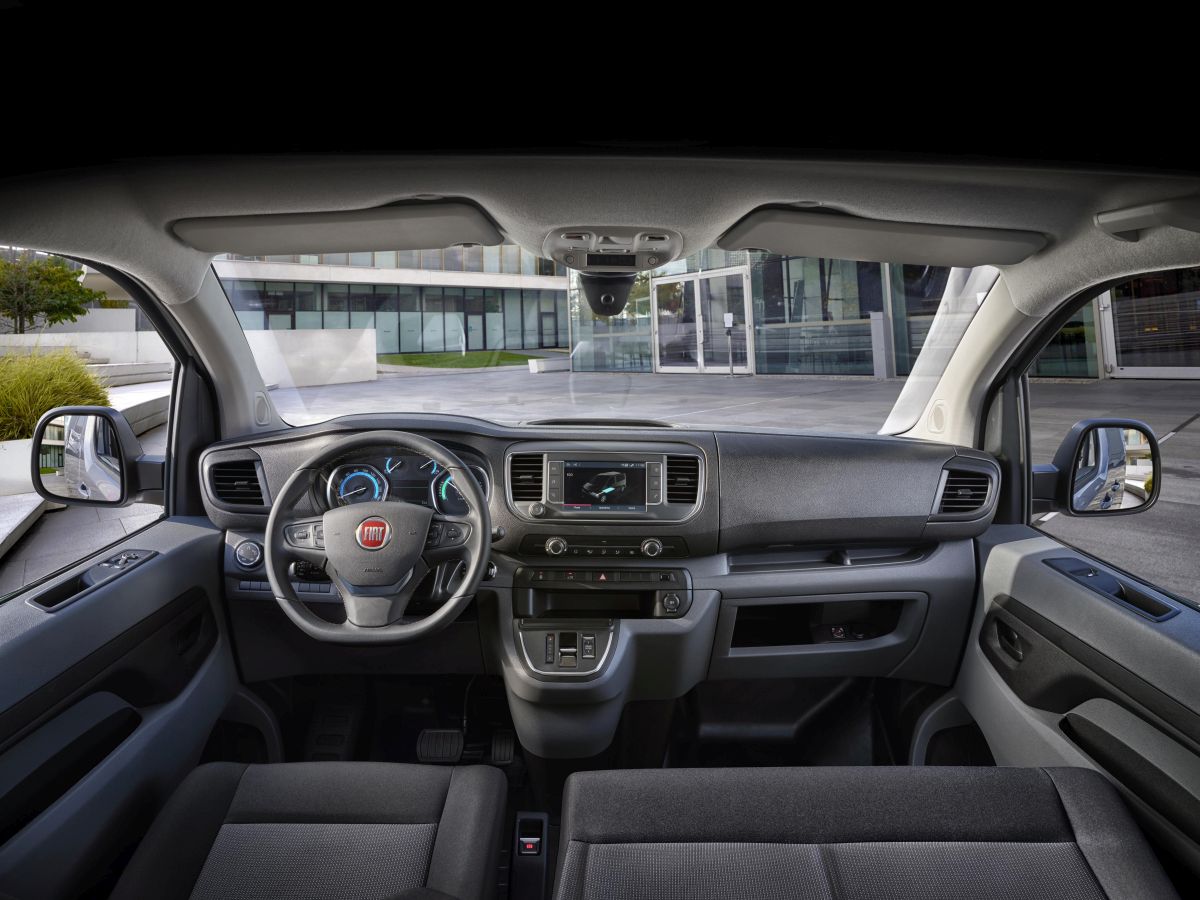 De nieuwe Fiat Scudo is na de E-Ducato de tweede bedrijfswagen van Fiat Professional die ook in een 100% elektrische versie verkrijgbaar is. Hij komt in vijf versies en drie lengtes: Van, Crew Cab, platformcabine en Combi M1.
Naast de volledig elektrische nieuwe Scudo komt er ook een dieselmodel met handgeschakelde of automatische transmissie. Met een batterij van 50 of 75 kWh is de nieuw E-Scudo met een actieradius tot 330 km (WLTP) de beste in zijn klasse. Hij wordt eind Q1 2022 bij de Nederlandse Fiat Professional dealer verwacht.
Stellantis platform
Fiat Professional neemt opnieuw het voortouw in het lichte bestelwagen D-segment en keert terug naar de historische naam van het voertuig dat tot 2016 in de Stellantis-fabriek in Hordain (Frankrijk) werd geproduceerd ter vervanging van de Talento. De besteller is gebaseerd op het Stellantis- platform voor middelgrote bestelwagens en biedt keus uit een volledig elektrische aandrijflijn of een diesel. De nieuwe Scudo wordt na de E-Ducato de tweede bedrijfswagen van Fiat Professional die ook in een elektrische versie verkrijgbaar is.
De nieuwe Scudo is ontworpen als een allround bedrijfswagen, maar dan wel één die aanvoelt als een personenauto. De afmetingen zijn nog een van de sterke punten van het model. Met een hoogte van 1,90m zijn parkeergarages gemakkelijk toegankelijk en met een lengte van 5m (tot 5,3m in de Maxi- versie) is het een voertuig dat alles kan vervoeren. Ook verkrijgbaar - voor specifieke behoeften in de stad - is de versie met korte wielbasis (L1), die alle voordelen van de Scudo samenbrengt in slechts 4,6 meter.
Laadvermogen
Laadvolumes van 4,6, 5,3 of 6,1 m3 (afhankelijk van de wielbasis) en een laadcapaciteit tot 1,4t garanderen de capaciteiten van de nieuwe Scudo. Hij beschikt ook over een bijzondere vorm van modulariteit in de cabine, mede dankzij het exclusieve Moduwork-systeem. Dit kan de passagiersstoel omvormen tot een werkstation en/of een uitbreiding van de laadruimte, om voorwerpen tot 4 meter lang te kunnen vervoeren (Maxi-versie) of om het volume te vergroten tot een totaal laadvermogen van 6,6 m3. 
De nieuwe Scudo is volgens Fiat met maar liefst 14 veiligheidsvoorzieningen de beste in zijn klasse op het gebied actieve- en passieve veiligheid. Tot de meest opvallende behoren de Advanced Driver-Assistance Systems (ADAS), zoals: automatic road sign recognition, voor het automatisch herkennen en in de cockpit weergeven van verkeersborden; automatic emergency braking, een noodstop systeem dat automatisch in werking treedt wanneer er een groot risico op een aanrijding bestaat; Lane Departure Warning, om de bestuurder te waarschuwen wanneer hij van zijn rijstrook afwijkt én Blind Spot Alert, een functie die waarschuwt wanneer er bij het inhalen voertuigen in de dode hoek van de buitenspiegel verscholen zitten. De auto is ook uitgerust met waarschuwingssystemen voor obstakels in de rijrichting, waarschuwing voor frontale botsingen en een praktische achteruitrijcamera die een 180°-panoramaweergave biedt, om het parkeren te vergemakkelijken.
Doelgroep
De Scudo-doelgroep bestaat uit professionals die hun voertuig 8 uur of meer per dag gebruiken. Het doel van de nieuwe Scudo is dan ook om comfort en een stressvrije rij-ervaring te bieden, mede dankzij een rijpositie die zo veel mogelijk lijkt op die van een personenauto, een betere geluidsisolatie en een adaptieve ophanging om schokken en trillingen tot een minimum te beperken. Het manifest voor de "compromisloze" aanpak van de Scudo ligt in de kenmerken van de elektrische versie. Deze biedt volgens Fiat de beste actieradius in zijn klasse, tot 330 km in de WLTP-cyclus, ideaal voor wie in de stad werkt. En heeft eenzelfde laadvermogen en -volume als de dieselversie: laadvermogen tot meer dan 1 ton en evenzo een trekvermogen van 1 ton. De hele Scudo line up is verkrijgbaar als elektrische versie; van de bestelwagen tot de platformcabine-, CrewCab- en combiversies, de laatste met maximaal 9 zitplaatsen. De emissievrije versie biedt keuze uit twee batterijgroottes - 50 en 75 kWh, een AC-laadcapaciteit tot 11 kW, en tot 100 kW in DC om de grotere batterij in slechts 45 minuten tot 80% op te kunnen laden.
Varianten
De nieuwe Scudo wordt beschikbaar in vier varianten (Van, Crew Cabine, platformcabine en Combi M1), twee afwerkingsniveaus (Basis en SX), en vier dieselmotoren bovenop de elektrische aandrijflijn. Wat de aandrijflijnen betreft zijn er, naast de eerdergenoemde elektrische versie met een 100 kW (136 pk) elektromotor, vier dieselmotoren beschikbaar: 1,5-liter in een 102- of 120-pk versie, met handgeschakelde 6-versnellingsbak; 2,0-liter in een handgeschakelde 8-versnellingsbak of een automatische 145-pk versie; 177-pk, wederom gekoppeld aan de efficiënte 8-traps automatische transmissie.