Portena kiest voor Volvo FH op LNG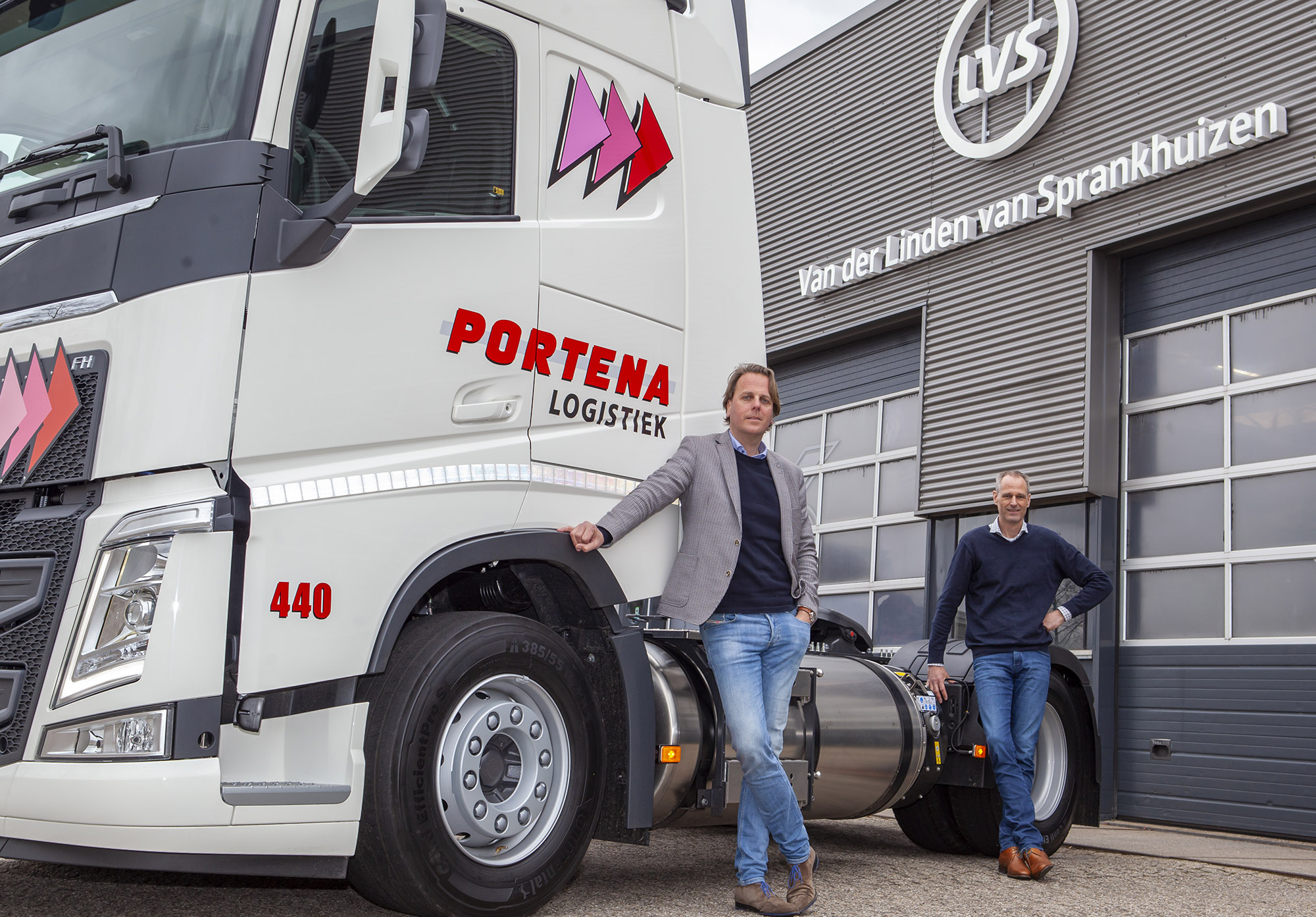 Portena Logistiek uit Heerenveen heeft zijn eerste twee Volvo FH LNG 4x2-trekkers in gebruik genomen. De logistiek dienstverlener kiest voor Volvo LNG-trucks vanwege het milieuvoordeel en de sluitende businesscase. 
Logistiek dienstverlener Portena Logistiek wil de komende vier jaar een verspillingsreductie van minimaal 20 procent realiseren. "Daarbij gaat het om het terugdringen van verspilling in alle geledingen van ons bedrijf, waarvan ons rijdend materieel een belangrijke component is." 
De aanschaf van twee Volvo LNG-trekkers past in die doestelling. "Wij benaderen duurzaamheid vanuit een brede visie", zegt directeur Ron Kleinsmit. "We kiezen voor oplossingen die goed zijn voor het milieu en dus voor mens en omgeving. Maar duurzaamheid zit hem óók in de businesscase: het Total Cost of Ownerhip moet kloppen. Daarom gaan we voor oplossingen die in ieder geval kostenneutraal zijn en bijdragen aan duurzame groei. Volvo LNG-trucks zijn wat dat betreft een bewezen proof of concept."
Rendabele businesscase
De nieuwe vrachtwagens worden in eerste instantie ingezet  op een aantal vaste distributieroutes naar Scandinavië en België. Daarbij spelen allerlei aspecten een rol, zoals de Maut-vrijstelling in Duitsland, het accijnsvoordeel in België, de stimuleringsregeling van 18,7 eurocent per kilogram LNG in Nederland en de Milieu-investeringsaftrek (MIA) die geldt voor LNG-trucks. De komende jaren gaan we alternatieve brandstoffen stap voor stap verder integreren", zegt Kleinsmit. "Ons wagenpark bestaat uit 100 trucks, waarvan het merendeel Volvo-trucks. We werken al heel lang samen met dealer LVS en zijn bij onze hoofdvestiging in Heerenveen bijna letterlijk buren."
Over Portena Logistiek
Portena Logistiek is als veelzijdig logistiek dienstverlener onder meer actief in het transport van food en non-food en is één van de grootste fietsendistributeurs van Europa. "De laatste jaren hebben we ons dienstenaanbod verder verbreed met de uitbreiding naar fijnmazige distributie. We zijn één van de grotere distributeurs en warehouse-specialist in Noord-Nederland. Voor onze klanten verzorgen we de totale goederenstroombeheersing, voorraadbeheer, op- en overslag, transport en distributie." Links Ron Kleinsmit, directeur Portena Logistiek, rechts Jos Bot, directeur LVS Trucks.