Renault kondigt 44 tons elektrische versie T-serie aan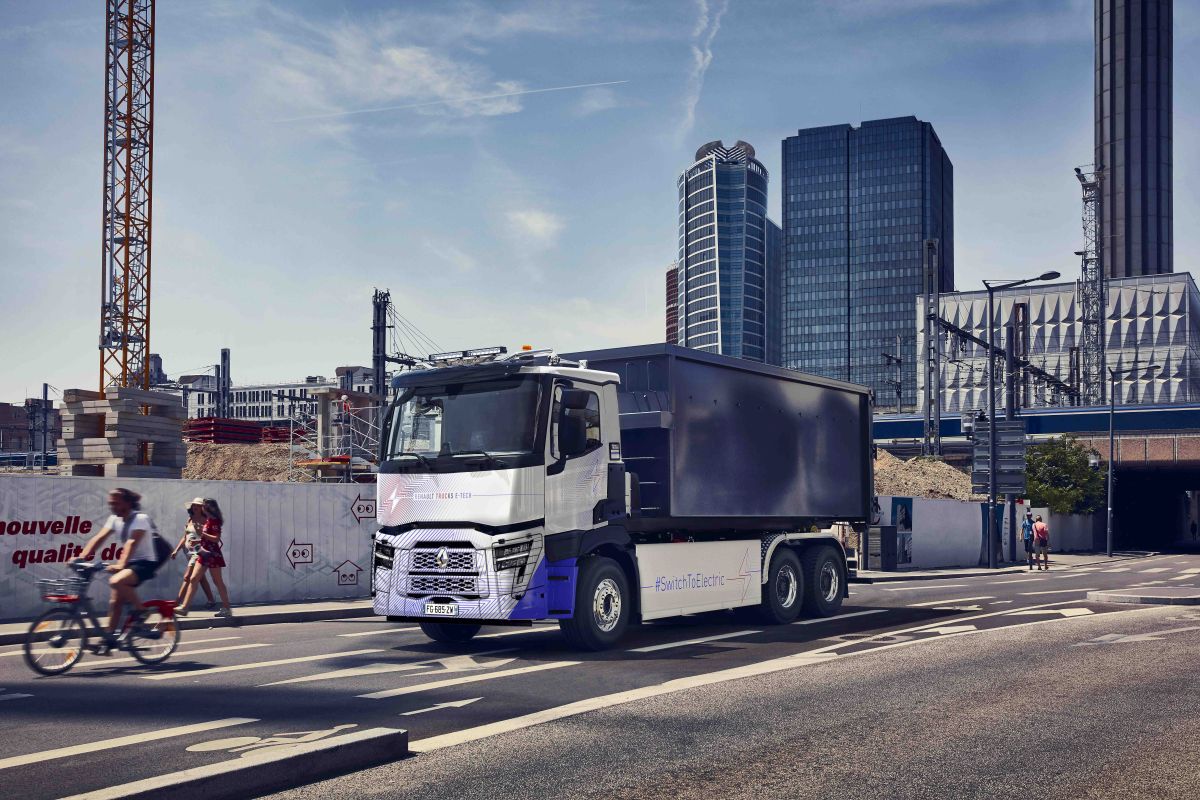 Vanaf begin 2023 start Renault Trucks met de verkoop van twee nieuwe modellen tot 44 ton GVW in zijn aanbod van elektrische trucks: de Renault Trucks T E-Tech voor regionaal transport en de Renault Trucks C E-Tech voor de bouw. Het merk is nu al bezig met intensieve begeleiding van klanten die willen overschakelen op elektrische trucks. Tot nu toe heeft de zwaarste elektrische truck van het merk een GVW van 27 ton.
Deze nieuwe 100% elektrische modellen van Renault worden uitgerust met twee of drie elektromotoren met een gecombineerd vermogen tot 490 kW (666 pk). Ze zullen ook uitgerust zijn met een Optidriver-versnellingsbak.
Batterijpakketten
De Renault Trucks T en C E-Tech zullen uitgerust zijn met twee tot zes lithium-ion accupakketten met een capaciteit van 180 tot 540 kWh. De accu's van de voertuigen kunnen in 9,5 uur volledig worden opgeladen met wisselstroom (AC) tot 43 kW, of in 2,5 uur met gelijkstroom (DC) tot 250 kW. Deze trucks kunnen 300 km afleggen met één lading en 500 km met een tussentijdse snelle lading van één uur (250 kW), schrijft Renault Trucks.
Om zich gemakkelijk aan elk type carrosserie en dus aan iedere gewenste inzet aan te passen, kunnen de Renault Trucks T en C E-Tech uitgerust worden met drie types PTO (power take-off): elektrisch, elektromechanisch of op de versnellingsbak. Deze nieuwe elektrische vrachtwagens zullen een bruto voertuiggewicht van 44 ton hebben en verkrijgbaar zijn in 4x2 en 6x2 trekkerversies en 4x2, 6x2 en 8x4 tridem bakwagens. De Renault Trucks T en C E-Tech zullen in het eerste kwartaal van 2023 op de markt komen. Ze zullen worden geproduceerd in de fabriek van Renault Trucks in Bourg-en-Bresse.
Helft verkopen elektrisch in 2030    
Renault Trucks streeft ernaar dat tegen 2030 de helft van de truckverkoop elektrisch moet zijn en tegen 2040 moet 100% van de verkochte voertuigen CO2-neutraal zijn. Renault Trucks komt onder de nieuwe naam E-Tech met een programma dat gericht is op intensieve begeleiding van de klanten.
Die ondersteuning bestaat uit vier fasen:
Eerste fase - Ondersteuning bij het opstellen van de toekomstvisie van de klant m.b.t. de gewenste energietransitie.
Tweede fase – Een aanvullende diagnosefase, die bestaat uit het maken van een analyse van de bedrijfsactiviteiten, het wagenpark en het maken van simulaties. Na deze diagnose verstrekt Renault Trucks de klant een gedetailleerd advies, met inbegrip van een uitrolschema en een prognose van de vermindering van de CO2-uitstoot voor de komende jaren.
Derde fase - Daarna volgt een fase waarin Renault Trucks samen met de klant de gewenste oplossing samenstelt. Deze omvat de financiering, rekening houdend met lokale of overheidssubsidies, de specificatie van het voertuig inclusief opbouw, de oplaadvoorzieningen op het terrein, de onderhoudsovereenkomsten, enz. Het is tijdens deze fase dat Renault Trucks mogelijk een elektrische vrachtwagen ter beschikking stelt van de klant, zodat deze in reële werkomstandigheden kan worden getest.
Vierde fase - In de laatste fase treedt Renault Trucks op als projectmanager voor de introductie van de transportoplossing bij de klant: het installeren van oplaadvoorzieningen op het terrein, het opleiden van chauffeurs en wagenparkbeheerders, e.d. Tot slot ondersteunen Renault Trucks en zijn netwerk de klanten bij de operationele opvolging van hun vloot dankzij de connectiviteit van de voertuigen. Dit houdt in dat de fabrikant de laadinstallaties bewaakt, het rijgedrag en verbruik monitort en voorstellen doet voor optimalisatie, routes aanbeveelt en onderhoudswerkzaamheden optimaliseert.