Renault Trafic scoort goed in alle criteria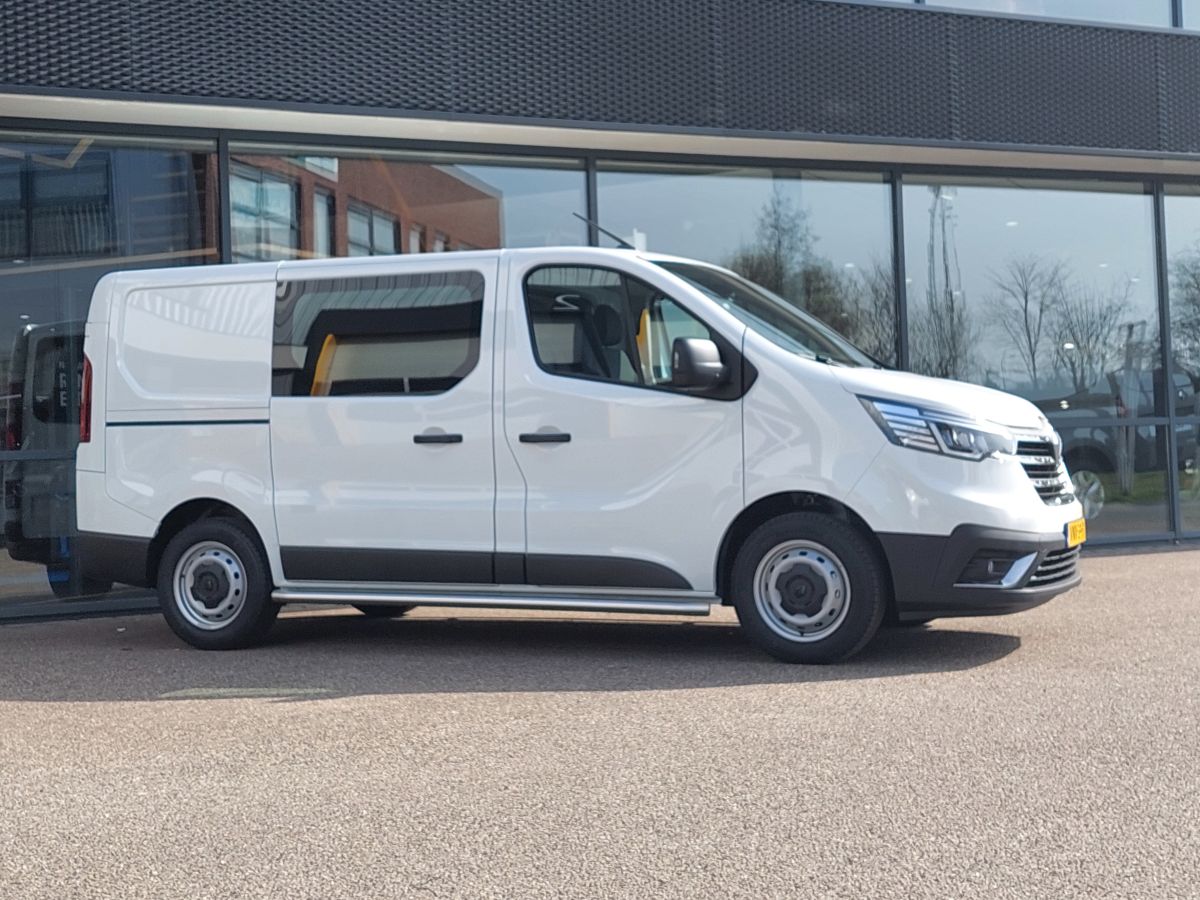 Aanvankelijk was deze Renault ontwikkeld met andere merken. Maar die bevinden zich nu in de Stellantis Groep. Deze Trafic is dus een unieke verschijning geworden. Ongetwijfeld komt er een elektrische versie, maar deze heeft 'nog' een dieselmotor. Toch wel een praktisch concept, bleek tijdens een druk weekje.
Al van meet af aan doet de Trafic eigenlijk alles goed. Het mooie van 'even snel een busje ophalen' is dat je er druk op legt, dat je er meteen vertrouwd mee raakt. Vanuit het ophaalpunt rijden we in een streep door naar Vlaanderen, voor een afspraak. Het instellen van diverse functies is kinderspel, uitleg is niet nodig. Ook de navigatie instellen gaat goed op dat grote scherm middenin het dashboard. De stoelen zitten goed en de Trafic heeft een sportstuur met enkele bedieningsfuncties. Het enige wat even wennen is, zijn de niet al te grote spiegels.
Telematica
Al snel blijkt in België dat de verkeersborden die betrekking hebben op de rip van de Trafic, keurig worden weergegeven. Dat gebeurt ook met snelheidscamera's. Daar wordt de berijder subtiel voor gewaarschuwd en de Trafic geeft goed aan waar ze staan. Op Vlaamse binnenwegen zuidelijk van Turnhout zijn het er veel, wees gewaarschuwd.
Later op de  dag volgt een route over smalle Vlaamse landweggetjes. De navigatie werkt uitstekend en de Trafic moet met grote nauwkeurigheid over smalle paden en scherpe bochten gestuurd worden. Dat werd steeds leuker, de auto is lekker wendbaar, maar de Trafic is dan wel leeg uiteraard.
Verlichting, cruise control
Later op de avond kamen ander aspecten van de Trafic aan bod. Donker geworden, bleek de verlichting aangenaam dynamisch te werken. De scherpe bochten werden goed verlicht en de afwisseling groot- en dimlicht werkte prima. Het geeft de inzittenden een veilig gevoel. De cruise control instellen op een rustige snelweg is van belang  om het brandstofverbruik te beperken. Dat liep gedurende de hele periode wat terug, maar dat komt door de maagdelijke kilometerstand van deze Trafic, die bij ontvangst nog geen duizend kilometer had gereden.
Renault leverde de Trafic met een betimmerde laadruimte. De deuren openden ver genoeg en de tilhoogte was van deze voorwielaandrijver zeker aan de lage kant. Tijdens de rit bleven de rij-eigenschappen hetzelfde, wat bewees dat de lading niet al te zwaar was.
Verbruik
Binnen een paar dagen tijd legden we dik 630 km af met deze Trafic. Die retourneerde daarvoor een verbruik van 1 op 16,7. Dat zijn waarden die bij een Kangoo passen. De berijder moet dan wel veel schakelen met de zesbak. We zijn benieuwd of er ook een automaat is of komt.
Feit is dat deze Trafic werkelijk op alle punten een dikke voldoende scoort. Nu Fiat en Opel bij Stellantis zitten, heeft de Trafic een 'eigen snuit' en dat staat 'm goed. Renault heeft serieus moeite gedaan om de Trafic naar de modernste inzichten te ontwikkelen.  De twee liter diesel komt met zijn 96 kW wat overbemeten over, maar blijkt in de praktijk toch mooi zuinig. Hoe zou hij het doen met een automaat? Tegen meerprijs is een achterklep verkrijgbaar. Om onder de 30.000 euro basisprijs te blijven moet je voor de achterdeuren gaan. Met wat extra's kwam 'onze'Trafic op 30.710 euro. Daarbij springt het Easy Link navigatiesysteem het meest in het oog, dat werkt met een acht inch touchscreen.
Tim de Jong 
Type: Renault Trafic L1H1
Motor: twee liter diesel, 96 kW (130 pk).
Verbruik: 1 op 16,7
Toegestaan GVW: 3010 kg
Massa leeg: 1862 kg
Laadvermogen: 1148 kg.
Prijs als getest (excl BTW en BPM) 30.710,-