Rijden met de elektrische Volvo FH en FMX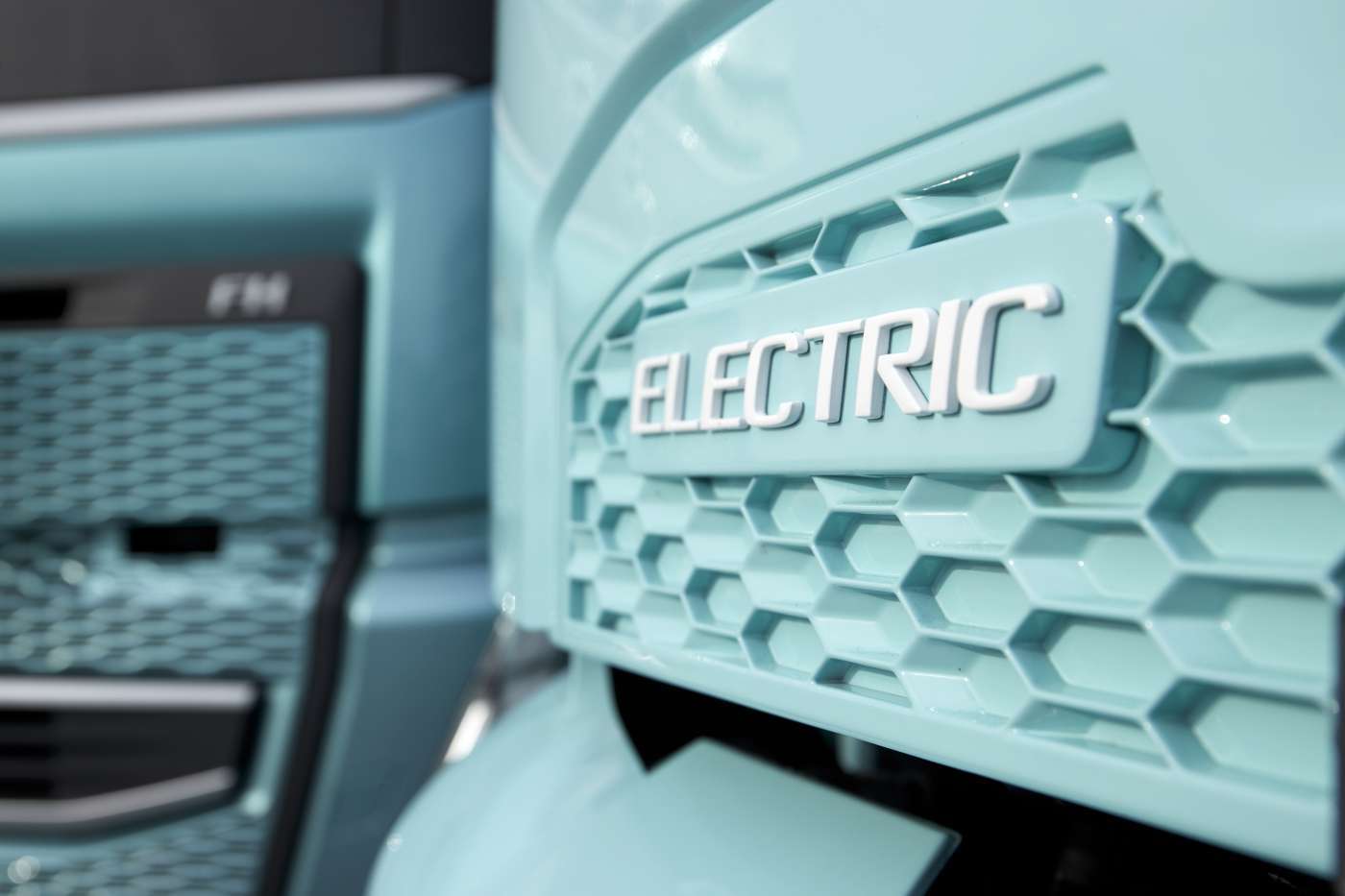 Tijdens een presentatie in Zweden presenteerde Volvo Trucks de full range elektrische trucks aan de vakpers. De elektrische FL en FE distributievoertuigen zijn al op de markt en tegen het einde van 2022 verwacht Volvo Trucks ook de elektrische FM, de FH en de bouwvoertuigen uit de FMX range volledig in productie te nemen. Wij kregen alvast een voorproefje met een exclusieve rij-impressie met de FH en de FMX.
Batterij-elektrische trucks, de zogenaamde BEV voertuigen, zullen volgens Volvo vooral worden ingezet voor de korte en middellange afstand. Onderzoek wijst uit dat 60% van alle Europese wegtransport uit de voeten kan met een actieradius van 300 kilometer per dag, en dat is dan ook precies het bereik van deze trucks. Dat is dan met één acculading, maar uiteraard kan er halverwege de dag worden bijgeladen. Met een snellader kan de accu binnen 1,5 uur weer worden bijgeladen tot 80%. In de praktijk komt het er volgens de eerste ervaringen op neer dat trucks met een maximaal GVW van 44 ton zo'n 4 uur kunnen rijden op een laadtijd van drie kwartier. Dat biedt perspectieven voor een praktische inzet, maar het verbruik wat de opbouw voor zijn rekening neemt moet daar uiteraard vanaf getrokken worden. Bij autolaadkranen of betonmixers bijvoorbeeld zal het verbruik andere cijfers laten zien,  maar bij die inzet worden ook minder kilometers afgelegd.
Eind 2022
Volvo kan op dit moment van de FL en FE elektrisch aangedreven varianten leveren. Op de eigen website van Volvo Trucks Nederland staat dat de FH en de FMX ook als elektrische trucks verkrijgbaar zijn. Maar wie nu bestelt, moet nog wachten tot de eind 2022. Een punt van aandacht is daarbij bovendien dat al deze trucks zijn toegelaten voor 44 ton treingewicht, maar in Nederland is 50 ton toegestaan. Voor de omstandigheden in ons vlakke landje moet dat echter geen groot probleem zijn.
Drie elektromotoren
Volvo koos bij de lichte FL en FE distributievoertuigen voor een oplossing met respectievelijk één of twee 650Volt elektromotoren met een twee traps transmissie. Ook de Volvo VNL die in de USA door Volvo inmiddels op de markt is heeft die aandrijflijn. Bij de zware FM, FMX en FH trucks worden er drie van die motoren toegepast in combinatie met de bekende, geautomatiseerde  I-Shift transmissie. Van de 12 versnellingen wordt eigenlijk alleen de hoge range gebruikt, maar onder zware omstandigheden, bijvoorbeeld op een steile helling, zijn er voldoende verzetten aanwezig om op gang te komen. Volvo biedt bij de zware trucks verschillende accu pakketten die, afhankelijk van de inzet kunnen worden gekozen. Minder accu's betekent minder bereik, maar ook een lager eigen gewicht. Bij de door ons gereden Volvo FH en FMX trucks was het maximale accupakket van zes modulaire units toegepast met ieder een eigen gewicht van 500 kilo. Dat is dus 3 ton aan accu's, die aan het chassis gemonteerd zijn op de plaats waar normaal de brandstoftanks zitten. Het eigen gewicht van de FH trekker is met deze accu's 9700 kilo, en dat is zo'n 2 ton zwaarder dan de dieselversie. Dat het verschil kleiner is komt doordat de dieselmotor niet aanwezig is.
Watergekoeld
De aandrijfunit van de zware Volvo trucks is bijzonder compact maar toch is de ruime onder de cabine ook volgebouwd. Alle componenten zoals de compressor, de stuurpomp en bijvoorbeeld de verwarming worden namelijk ook elektrisch aangedreven. Daarvoor zijn allerlei regelunits en verdeelkasten nodig met alle bedrading. Daarnaast is er ook een waterpomp voor de koeling van de elektromotoren, maar ook voor de elektronica. Net als bij een dieselmotor is er dan ook een radiator met een ventilator aanwezig. Kortom, uiterlijk is het verschil eigenlijk alleen zichtbaar door de aanduiding 'electric' op de trucks maar onderhuids zijn dit compleet andere voertuigen. Voor Volvo Trucks reden om de elektrische range uitsluitend te leveren in een operational lease constructie. Zelf sleutelen aan deze voertuigen is uitgesloten en alle dealers worden getraind hoe om te gaan met deze compleet nieuwe techniek. Daarbij staat veiligheid voorop, en dat is belangrijk met de hoge spanning op allerlei systemen.
Laadinfra structuur
Tijdens de introductie in Gotheborg worden we ingewijd in de elektrische toekomst. Daarbij is ook aandacht voor een planningtool en voor een systeem wat de chauffeur informeert over de range, de laadstations op zijn route en hoe hij daar een tijdslot kan reserveren. Een consortium van Volvo Trucks met Traton (Scania en MAN) en Daimler werkt aan een Europees netwerk van 1700 openbare tankstations met een gestandaardiseerde spanning en universele aansluitingen. Gezien het regionale karakter van de  inzet van de meeste elektrische trucks zal het laden echter hoofdzakelijk op de standplaats van de trucks plaatsvinden.
Rijden
Voor het Volvo hoofdkwartier staan twee trucks klaar voor testritten. Een FH trekker met oplegger en een FMX vier asser met autolaadkraan. Uiterlijk, afgezien van de baby blauwe kleuren hele normale trucks met alleen een badge die verraad dat het om elektrische voertuigen gaat. Ook het interieur is zoals we dat gewend zijn van Volvo. Het enige afwijkende is dat de brandstofmeter nu een percentage weergeeft, en een aanduiding met een verwachte actieradius. Aan een display met meer duidelijke informatie over de toestand van de accu's wordt nog gewerkt. Na het omdraaien van de contactsleutel is er een licht gezoem hoorbaar, en dat verandert niet als we wegrijden. Fluisterstlil zet de truck zich in beweging en ook op hogere snelheden blijft het fluisterstil in de cabine. Met het raam open is eigenlijk alleen wind- en bandengeruis hoorbaar. Bijgeluiden zijn er niet en dat is knap. Hoe stiller een aandrijflijn is hoe meer je andere dingen gaat horen, maar zelfs de ruitenwissers en de cabinevering veroorzaken geen hoorbare geluiden. Dat de I-Shift transmissie nog niet helemaal vloeiend zijn werk doet is volgens de ingenieurs een kwestie van finetuning. We hebben hier tenslotte met pre-productie voertuigen te maken.
Fluisterstil
Ook als we later overstappen in de FH trekker met oplegger blijft het oorverdovend stil. De rust in de cabine en het gebrek aan vibraties wennen heel snel en de ervaring leert dat chauffeurs die éénmaal elektrisch hebben gereden iedere dieselmotor daarna als lawaaiig ervaren. Wij kunnen ons daar wel wat bij voorstellen want het rijdt erg comfortabel. De prestaties doen met 490 kW (666 pk) en een koppel tot 2800 Nm beslist niet onder voor een gemiddelde diesel aandrijflijn en alles voelt vertrouwd aan. Het enige wat een aanpassing vraagt is het gebruik van wat we toch maar de motorrem noemen. Die remt keurig af op de aandrijflijn, met als voordeel dat de remenergie zorgt voor extra stroom in de accu's. Chauffeurs die daar goed mee omgaan kunnen de actieradius dan ook behoorlijk oprekken door hun rijstijl aan te passen. Overigens levert Volvo voor de elektrische FMX levert Volvo een elektrische PTO met 70 kW vermogen of een transmissie PTO met 150 kW.
Ommezwaai
Volvo wint er geen doekjes om dat truck-industrie en de transportsector voor de grootste ommezwaai ooit staan en dat een en ander in 2030 voor een groot deel op stoom moet zijn. Volvo noemt dit The Leap, oftewel de sprong, naar een nieuwe tijd. Daarbij houden de Zweden nog even in het midden of alle trucks met een batterij-pakket zullen worden aangedreven of met een brandstofcel, die met waterstof werkt. Voor nu zijn het lichte en middelzware segment het best geschikt voor batterij-elektrisch, en verwachten de Zweden dat in het zwaardere werk de brandstofcel zijn opwachting zal maken. Maar Volvo durft niet te zeggen wanneer zij een waterstoftruck te koop zal hebben. In elk geval wordt dit na 2025. Volvo heeft samen met Mercedes  het bedrijf Cellcentric opgericht, waarin beide partijen een brandstofcel ontwikkelen, als hart van een waterstof-aandrijflijn. 
Groene stroom
Met de volledig elektrische range biedt Volvo Trucks vervoerders en aannemers de kans om te voldoen aan de eisen van hun opdrachtgevers om duurzamer te werken. Dat heeft een prijskaartje, dat spreekt voor zich want voorlopig zijn elektrische trucks fors duurder dan de diesel versies. Dat vraagt dus om goede afspraken voor de lange termijn met opdrachtgevers. Om het beste resultaat te halen qua CO2 reductie moet echter de hele keten kloppen. Wie 'vuile stroom' gebruikt uit kolencentrales om de trucks op te laden draagt namelijk niets bij aan het klimaatprobleem. Onderzoek van Volvo Trucks wijst namelijk uit dat een elektrische truck op 'vuile stroom' bijna voor een verdubbeling zorgt van de CO2 uitstoot ten opzichte van een Euro6 diesel. Wie echter groene stroom toepast, bijvoorbeeld door wind of zonne- energie zorgt voor een reductie tot 100% aan CO2 uitstoot. Kortom, we zijn er nog lang niet maar aan Volvo zal het niet liggen. De nieuwe FM, FH en FMX zijn nu al te bestellen maar de productie vangt pas eind 2022 aan. De verwachting is dan ook dat de eerste zware elektrische Volvo trucks begin 2023 op de weg verschijnen.
Blik op de toekomst
Volvo heeft naast de samenwerking met Traton en Daimler nog een nieuw bedrijf opgericht onder de naam Volvo Energy. Dit heeft tot doel klanten te helpen met het vinden van de juiste energie-infrastructuur, die moet passen bij een elektrisch wagenpark. Het gaat om het vinden van het juiste batterijpakket of brandstofcel-techniek, het creëren van een waterstof-infrastructuur en het refurbishen of anderszins geschikt maken van batterijen voor hergebruik. Dit bedrijf staat nog in de kinderschoenen, maar duidelijk is dat Volvo hiermee de energie-transitie wil versnellen. Verder heeft Volvo zich gecommitteerd aan Science Based Targets, waarmee doelen worden gesteld om klimaatverandering tegen te gaan. Meest opvallend is het streven naar fossiel-vrij staal, waarbij het beroemde Zweedse staal wordt gewonnen met behulp van hernieuwbare energie en niet met energie uit olie, kolen of gas. "We zijn ermee begonnen en dit staal is nu nog een stuk duurder, maar als het lukt, stoot de productie van een Volvo-truck al meteen de helft minder CO2 uit. Dat zou een mooie vooruitgang beteken."