Scania Plug-in Hybride truck voor Fuhler BV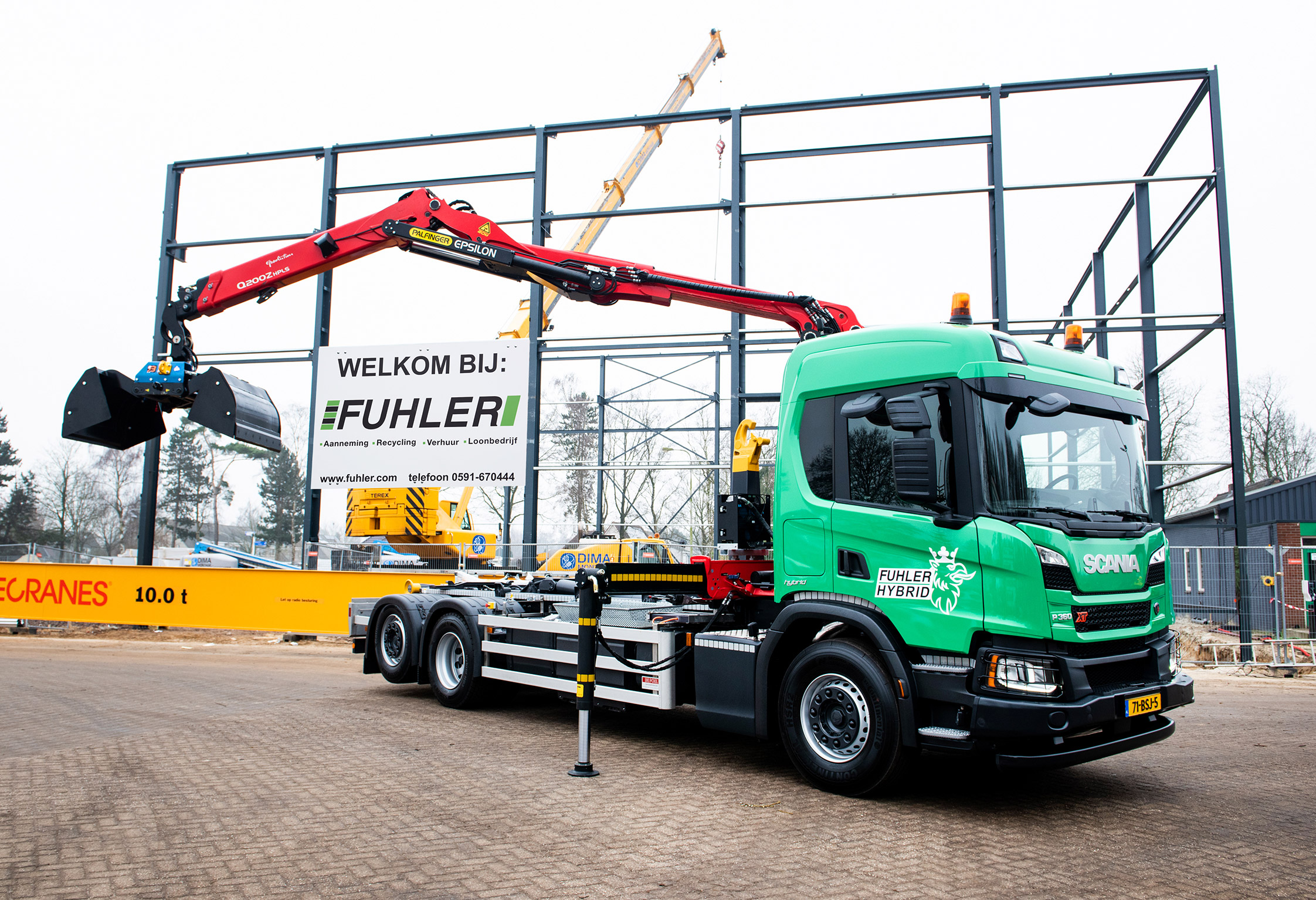 Loon- en Verhuurbedrijf Fuhler BV uit Emmen zet sinds kort een Scania P360 XT PHEV (Plug-in Hybride) truck in. Deze Scania combineert een zuinige dieselmotor met een 115 kW elektromotor en drie batterijen met een geïnstalleerd vermogen van 90 kWh. Met dit voertuig sorteert het bedrijf duidelijk voor naar een duurzame toekomst waarin CO2-reductie en verkleining van de ecologische voetafdruk centraal staan.
Op de snelweg rijdt het voertuig op de zuinige en krachtige 9-liter motor terwijl hij bij het betreden van de binnenstad of dorpskern kan overschakelen naar volledig elektrische aandrijving zonder enige uitstoot. Door gebruik te maken van de multi-battery oplossing bedraagt de actieradius, afhankelijk van belading en omstandigheden, enkele tientallen kilometers. Dit is ruim voldoende om binnen elke zero-emissie zone werkzaamheden te verrichten. De elektromotor ondersteunt de verbrandingsmotor tijdens het rijden op de doorgaande wegen wat zich direct vertaalt in een aanzienlijk lager brandstofverbruik. Bovendien kan de truck probleemloos gebruik maken van een hernieuwbare brandstof als HVO. Hierdoor kan de CO2-uitstoot nog verder gereduceerd worden.
Autolaadkraan ook elektrisch
Het drieassige voertuig is uitgerust met een Epsilon Palfinger kraan Q200Z95TR, direct achter de cabine gemonteerd, en een Palfinger Palift T18TEC7 haakarmsysteem. Het geheel is voorzien van een load sensing pomp die alleen vermogen geeft op het moment dat de equipment dit vraagt. Hierin wordt aanmerkelijk veel energie bespaard. Deze zijn gemonteerd en geleverd door De Poel Carrosseriebouw uit Emmen en de aandrijving hiervan vindt ook volledig elektrisch plaats zodat men met het voertuig ook ter plekke zero-emissie kan opereren. De elektrische aandrijving van de truck én de opbouw betekent niet alleen een groot voordeel voor wat betreft de uitstoot, maar ook voor het geluidsniveau. Deze truck kan binnen elke milieugevoelige zone of leefomgeving geluidloos ingezet worden.
BOV Recycling Emmen
De nieuwe Scania zal worden ingezet voor werkzaamheden voor diverse opdrachtgevers. Het betreft voornamelijk werkzaamheden voor het ophalen van bladafval. Deze schone en stille truck is uitermate geschikt voor het binnenstedelijk gebied van gemeenten en binnen emissieloze projecten. Dit opgenomen bladafval zal worden verwerkt op de BOV Recycling Emmen, dit is onderdeel van Loon- en Verhuurbedrijf Fuhler b.v. Met de moderne verkleiner(s) en de elektrisch zeef zal dit bladafval worden verwerkt tot diverse eindproducten.
Duurzaam 
Fuhler kleurt Nederland groen! Al ruim 70 jaar staat het bedrijf letterlijk met de poten in de klei. Met ruim 700 medewerkers vormen zij één team en zijn 24-uur per dag, 7 dagen per week beschikbaar om te werken aan een duurzame toekomst. In deze tijd realiseert men zich des te meer dat het werk een duurzame oplossing moet bieden, zodat nog generaties lang genoten kan worden. Het groene karakter zie je overal in terug bij Fuhler, zo gaat het bedrijf zuinig om met grondstoffen en energie, door te investeren in het rijden op andere brandstoffen zoals elektrisch en/ of waterstof. Fuhler denkt in oplossingen en draait haar hand niet om als er een uitdaging op het pad komt.