Dual Fuel waterstoftruck van CMB.Tech voor Van Moer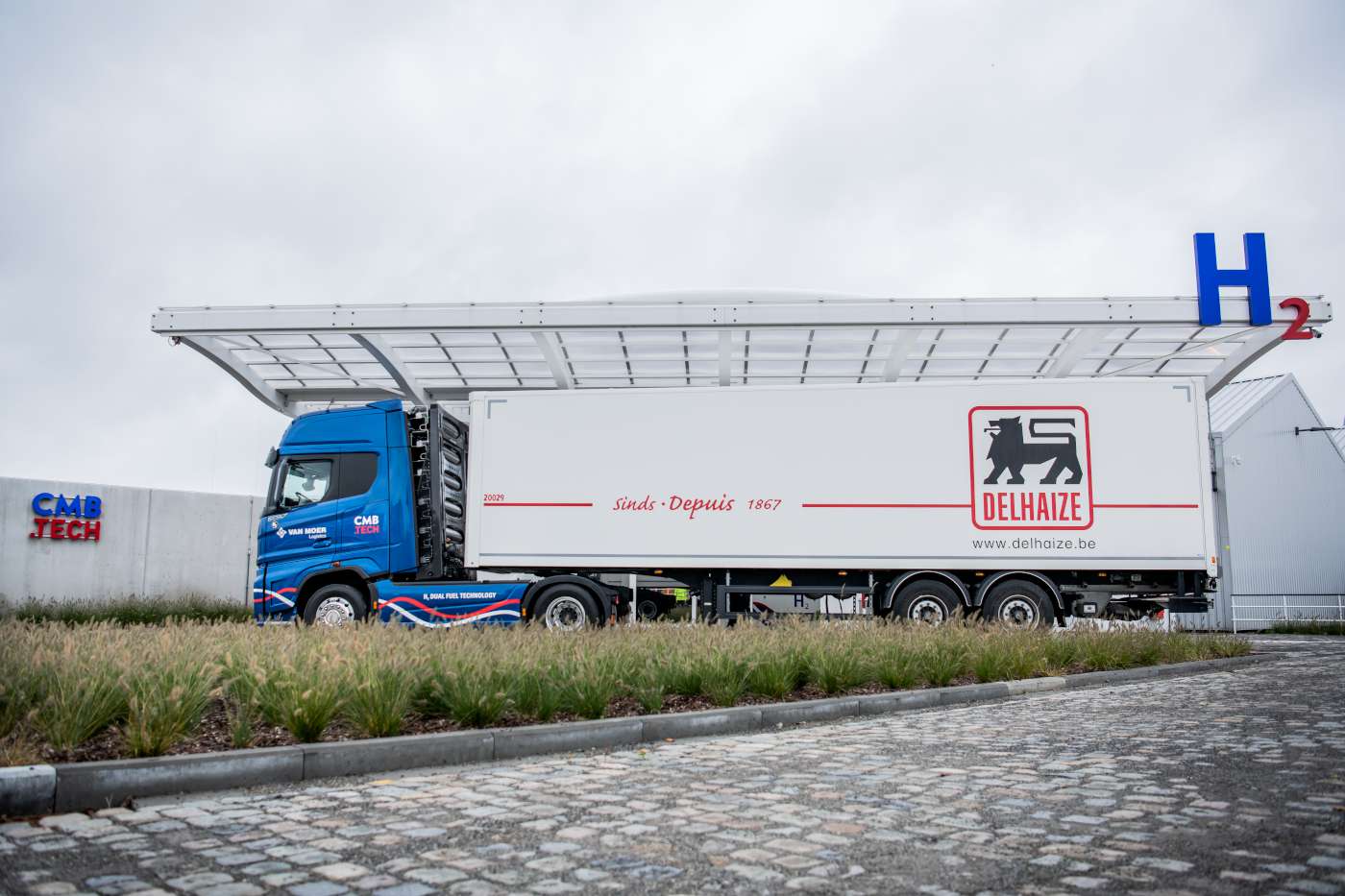 Van Moer Logistics en de Belgische supermarktketen Delhaize nemen een Dual Fuel waterstoftruck in gebruik. De Ford F-Max trekker werd door CMB.Tech omgebouwd voor het gebruik van zowel waterstof als diesel. Dit leidt volgens CMB.Tech tot een 70% lagere uitstoot tegen een derde van de kosten van een zero emissie oplossing.
De dual-fuel techniek heeft volgens CMB.Tech grote voordelen. De truck heeft een grotere actieradius, is goedkoper in aanschaf en heeft geen verlies van laadruimte. De eerste truck, een aangepaste Ford F-Max rijdt al vanaf november in de vloot van Van Moers Logistics in Antwerpen. De truck rijdt tussen het distributiecentrum van Delhaize in Zellik en de supermarkten in de regio Antwerpen. 
De Dual Fuel truck rijdt op diesel maar mengt waterstof bij in de aangepaste krachtbron. Hierdoor vermindert het brandstofverbruik aan diesel en AdBlue en wordt er minder CO2 geproduceerd. Ook de NOx uitstoot verminderd, tot maar liefst 70% volgens CMB.Tech. Door gebruik te maken van de bestaande diesel aandrijflijn blijft de investering beperkt tot ongeveer een derde van een zero emissie oplossing. Daarbij komt het voordeel dat de truck ook volledig op diesel kan rijden, bijvoorbeeld als er geen waterstof tankstation in de buurt is. Met een volle tank waterstof kan het voertuig 500 kilometer rijden in combinatie met het gereduceerde dieselverbruik. Puur op diesel is de actieradius ergens rond de 3000 kilometer.
Met deze oplossing is er dus geen sprake van een beperkte actieradius, of een afhankelijkheid van schaarse tankstations voor waterstof. Voor vervoerders die te maken hebben met de weerbarstige praktijk van file's of een steeds wijzigende planning lijkt dit dan ook een mooie manier om toch duurzaam te rijden waar dat kan en nodig is. Met deze mooie techniek is de truck echter geen 'zero-emissie' voertuig waardoor de strengste milieu zones niet toegankelijk zijn.