Hyundai test waterstof truck in de USA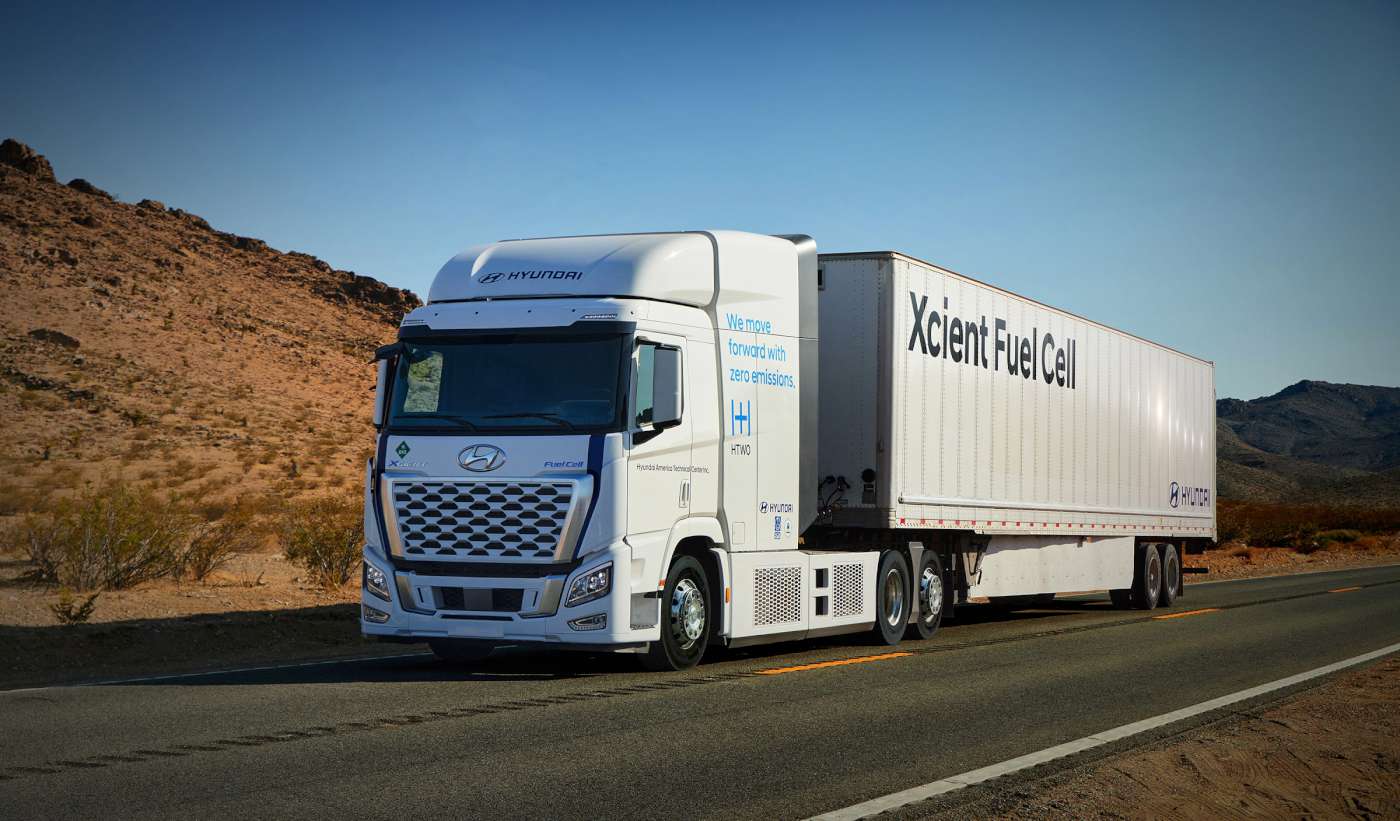 Hyundai komt naar Nederland met waterstof trucks maar ook in de USA gaan de Koreanen deze nieuwe brandstof testen. Waar het in Europa gaat om middelzware distributietrucks kiezen ze in de USA meteen voor de zwaarste klasse, namelijk Class 8. 
Hyundai brengt zijn nieuwste waterstoftruck op de weg in Californië. Dat gebeurt in het kader van twee door de Californische overheid bekostigde projecten om de luchtkwaliteit te verbeteren. De demonstratiemodellen die Hyundai naar de Verenigde Staten overbrengt, zijn ontwikkeld op basis van de zware XCIENT Fuel Cell-truck – 's werelds eerste in serie geproduceerde waterstof-elektrisch aangedreven vrachtwagen met brandstofceltechnologie.
De Hyundai XCIENT Fuel Cell maakte vorig jaar zijn debuut in Zwitserland en heeft zich daar inmiddels in de praktijk bewezen over meer dan een miljoen kilometers. De Amerikaanse versie van de waterstoftruck heeft een actieradius van ongeveer 800 kilometer, dankzij de grotere hoeveelheid waterstof die de truck kan meenemen in de hogedruktanks (700 bar). Het toelaatbare totaalgewicht van de complete Hyundai XCIENT Fuel Cell met oplegger is meer dan 37 ton. 
Hyundai maakt gebruik van de in Zwitserland en Californië opgedane kennis en ervaring bij de verdere ontwikkeling van zijn gamma emissievrije bedrijfsauto's voor de Verenigde Staten. Ook wil het daar partnerschappen in de gehele waardeketen aangaan.
Vanaf medio 2023 inzet van 30 Hyundai's XCIENT Fuel Cell in Noord-Californië
Hyundai werkt samen met overheden en private partners om vanaf medio 2023 dertig XCIENT Fuel Cell-trucks in te zetten in Noord-Californië. Dat wordt de grootste vloot waterstof-elektrisch aangedreven zware vrachtwagens met brandstofcel in de Verenigde Staten.
Een consortium onder leiding van het Californische Center for Transportation and the Environment (CTE) en Hyundai Motor ontving onlangs subsidies ter waarde van 22 miljoen dollar van de (regionale) Californische overheidsorganen California Air Resources Board (CARB) en California Energy Commission (CEC). En nog eens 7 miljoen aan aanvullende subsidies van de districten Alameda en Bay Area. 
Voor het NorCAL ZERO-project met emissievrije waterstof-elektrisch aangedreven bedrijfswagens in Noord-Californië – ook bekend als Zero Emission Regional Truck Operations – levert Hyundai dertig exemplaren van de XCIENT Fuel Cell. Deze drieassige vrachtwagens met aandrijving op de beide achterassen worden vanaf medio 2023 ingezet door logistiek dienstverlener Glovis America, die de trucks gaat leasen. 
Het consortium ondersteunt de ontwikkeling en het gebruik van emissievrije bedrijfswagens en de benodigde infrastructuur om de luchtkwaliteit in Noord-Californië te verbeteren. Publieke en private partijen werken daarvoor samen in het consortium, dat ook een waterstoftankstation met grote capaciteit wil inrichten in Oakland, Californië. Dit tankstation moet in staat zijn om vijftig waterstoftrucks van gemiddeld 30 kilogram waterstof te voorzien. 
Pilot van 12 maanden met 2 Hyundai's XCIENT Fuel Cell
Hyundai ontving bovendien nog een subsidie van een half miljoen dollar om in het zuiden van Californië twee van zijn XCIENT Fuel Cell-trucks te demonstreren. Dit pilotproject wordt grotendeels gefinancierd door de Amerikaanse overheid en heeft als doel bij te dragen aan het bereiken van schonere lucht aan de Californische zuidkust, onder meer door de emissies van zware dieseltrucks te reduceren. 
Hyundai en Glovis America nemen de emissievrije XCIENT Fuel Cell-trucks in augustus 2023 in gebruik. Ze worden voor een periode van twaalf maanden ingezet voor vervoer over lange afstanden in het zuiden van Californië. Hyundai werkt ook samen met First Element Fuel (FEF, de grootste exploitant van waterstoftankstations in Californië), zodat de trucks kunnen gebruikmaken van drie van de waterstoftankstations van FEF in de regio. 
Dat Hyundai subsidie van de Californische overheid heeft gekregen zodat het zijn waterstof-elektrisch aangedreven vrachtwagen met brandstofceltechnologie kan demonstreren, is voor een groot deel te danken aan het succes van de XCIENT Fuel Cell in Europa. Afgelopen jaar maakte Hyundai de plannen bekend om tegen 2025 zo'n 1.600 XCIENT Fuel Cell-trucks in Europa af te leveren. De eerste 46 zijn in Zwitserland afgeleverd en die hebben samen in de afgelopen elf maanden meer dan een miljoen kilometers afgelegd. De waterstoftrucks hebben daarmee naar schatting zo'n 630 ton CO2-emissie bespaard ten opzichte van dieseltrucks over dezelfde afstand. 
Op basis van de ervaring van de eerste demonstraties zet Hyundai in op een snellere officiële introductie van zijn emissievrije waterstoftruck op de Noord-Amerikaanse markt. Hyundai is al in gesprek met diverse bedrijven die geïnteresseerd zijn in het gebruik van waterstoftechnologie voor hun transportactiviteiten. Op de lange termijn wil Hyundai met lokale partners lokale waterstof-waardeketens opbouwen voor de ontwikkeling van diverse waterstof-elektrische bedrijfsvoertuigen.