Opel komt met Vivaro E Hydrogen bestelwagen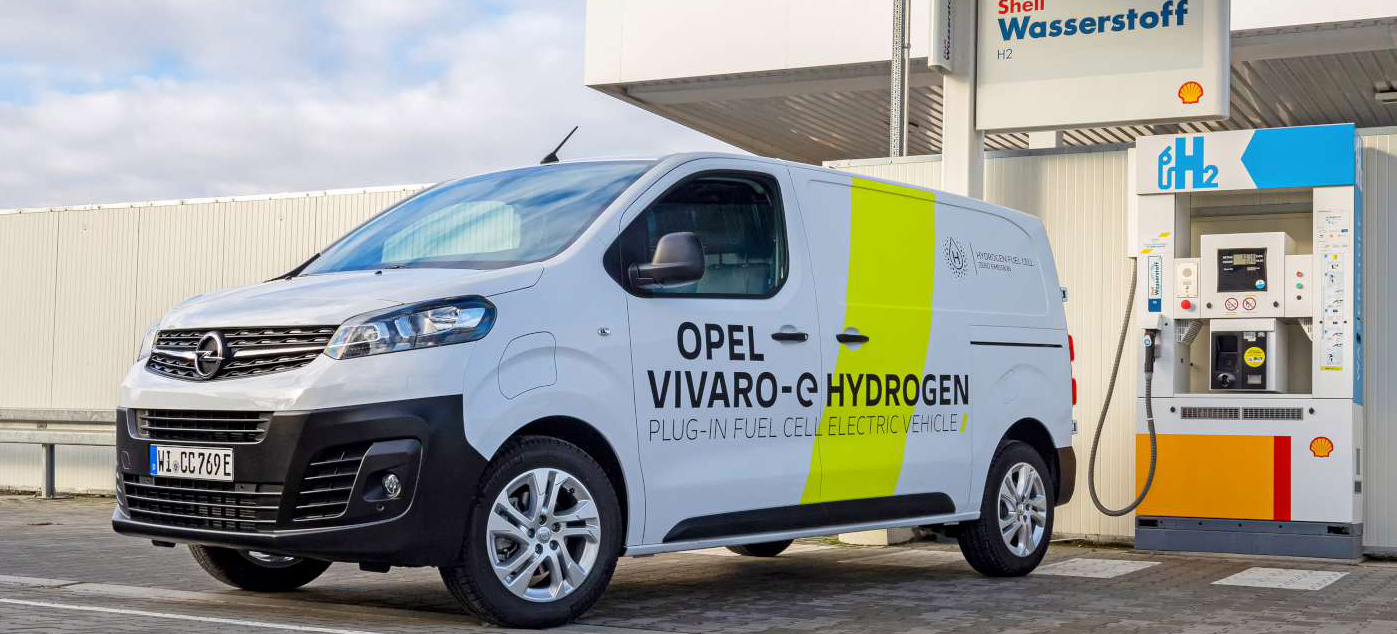 Opel komt met een in serie geproduceerde waterstof- elektrische bestelwagen. De eerste Opel Vivaro E Hydrogen wordt geleverd aan Miele. De bestelauto heeft een laadvolume van 6,1 kuub, 1 ton laadvermogen en kan na 3 minuten tanken 400 kilometer afleggen volgens fabrieks opgave.
Met deze, in serie geproduceerde waterstof- elektrische bestelwagen zet moederbedrijf Stellantis het merk Opel als pionier op de kaart. Opel-CEO Uwe Hochgeschurtz en Head of Development Marcus Lott waren aanwezig bij de productiestart in Rüsselheim.  
"Met de nieuwe Opel Vivaro-e HYDROGEN beginnen we aan het volgende hoofdstuk van ons aanbod voor duurzame mobiliteit. Het slimme concept combineert de voordelen van waterstofaandrijving met de veelzijdigheid en de eigenschappen van onze bestverkochte lichte bedrijfswagen", aldus Uwe Hochgeschurtz.  
Waterstof de ideale oplossing voor langere afstanden
Marcus Lott voegt daar aan toe: De nieuwe Opel Vivaro-e HYDROGEN voldoet perfect aan de eisen van wagenparkbeheerders. De bedrijfswagen op waterstof is de ideale oplossing voor het emissievrij afleggen van grote afstanden zonder tijd te verliezen met het opladen van batterijen. De Opel Vivaro-e HYDROGEN brengt emissievrije mobiliteit naar de toekomst, zeker voor zakelijk gebruik." 
Ook een accu en een laadkabel
De Vivaro op waterstof is gebaseerd op de elektrische e-Vivaro die verkozen werd tot International Van of the Year 2021. De 45 kW brandstofcel genereert voldoende vermogen voor langere afstanden over de snelweg. Het grote voordeel van waterstof is, naast de grotere actieradius het snelle tanken. Binnen drie minuten is de tank weer vol. Naast waterstof is er nog een energie drager aanwezig, namelijk een 10,5 kWh Lithium-ion accu. Dit is nodig om piekvermogen te kunnen leveren, bijvoorbeeld bij het accelereren. Hierdoor kan de brandstofcel onder alle omstandigheden zijn constante werk doen. De accu wordt opgeladen door regeneratie, maar hij kan ook met een stekker worden opgeladen. Dat levert een extra actieradius op van c.a. 50 kilometer. Standaard komt de Vivaro op waterstof dan ook met een driefase boordlader van 11 kW en een laadkabel.
Net als de batterij-elektrische versie en de versie met verbrandingsmotoren biedt de Vivaro-e HDYROGEN ongebruikelijk veel bestuurdersassistentiesystemen die de veiligheid verhogen. Tot het aanbod behoren onder meer een achteruitrijcamera met 180 graden zicht, een Blind Spot Alert en een Park Pilot voor en achter. Qua volume en laadvermogen zijn er geen consessies gedaan ten opzichte van de conventionele Vivaro modellen. Zo is ook de waterstof bestelwagen leverbaar in twee lengte varianten. 
Eerst alleen in Duitsland en Frankrijk
Opel start de levering in Frankrijk en Duitsland, andere landen volgen vanaf 2023. Het prijsniveau is 111.000 Euro plus BTW volgens de eerste opgave. In een land als Duitsland komt de lease rond de 600 Euro per maand te liggen, en dat kan door de lokale Duitse subsidie regeling. Daar wordt 80% van de meerprijs gesubsidieerd door de overheid.