Jan Knijnenburg kiest voor WHT e-PTO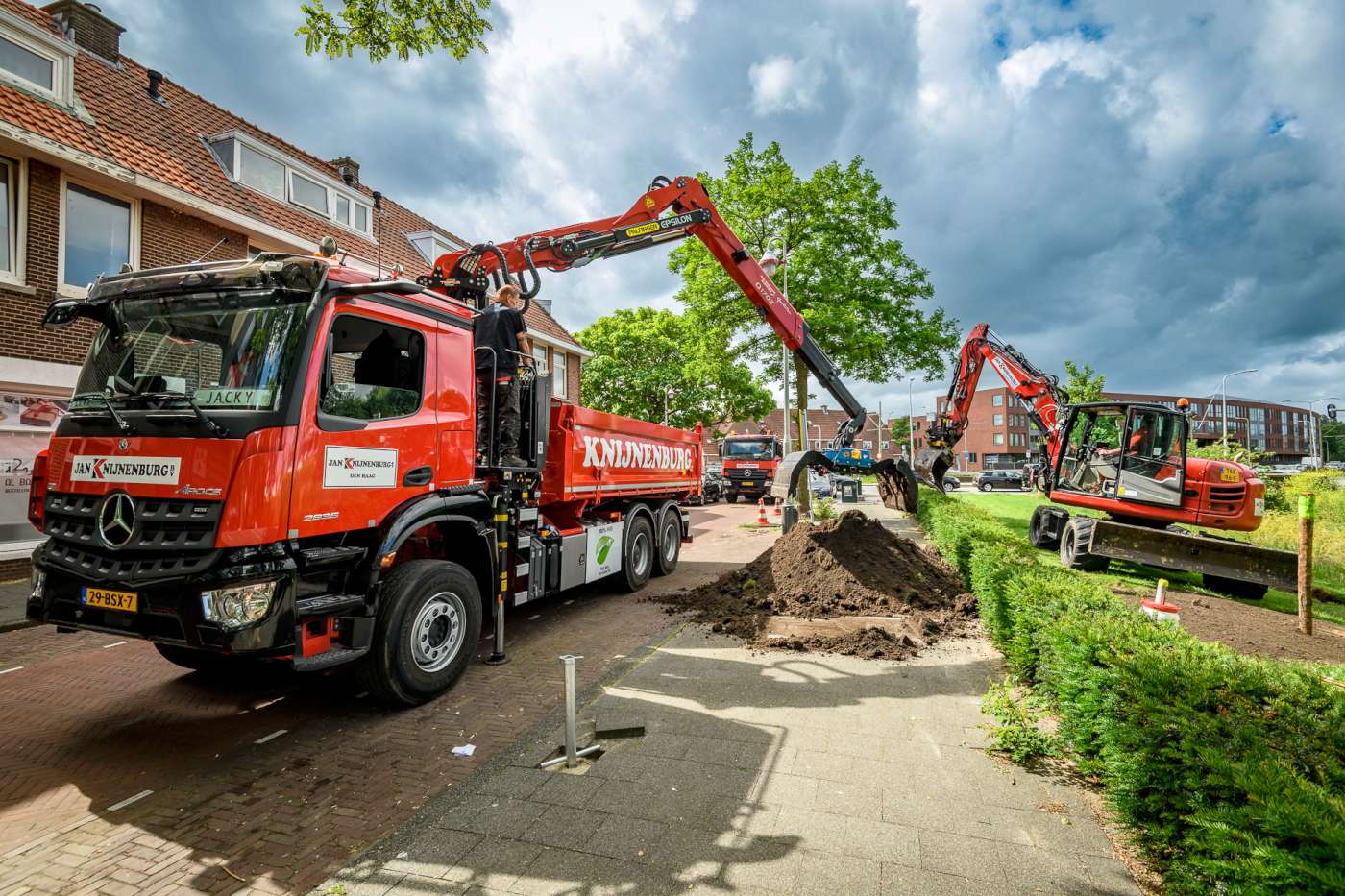 Jan Knijnenburg BV heeft zes nieuwe Mercedes-Benz Actros trucks in gebruik genomen waarvan er vier zijn uitgerust met een e-PTO van WHT.
De groenvoorziening in de binnenstad van Den Haag vindt vanaf nu voor een groot deel plaats zonder dieselverbruik en uitstoot. Jan Knijnenburg B.V. breidde hiervoor het wagenpark uit met zes nieuwe Mercedes-Benz Arocs kippers. Vier daarvan zijn voorzien van de e-pto: een kraan die werkt met accupakket en elektrische pomp. Zo hoeft de motor niet te draaien tijdens de werkzaamheden, waardoor er ook geen geluidshinder is. De keuze voor deze schone innovatie past volledig in de duurzame weg die Jan Knijnenburg enkele jaren geleden is ingeslagen.
Trucks die zijn uitgerust met kipper en een kraan doen hun werk doorgaans op de kracht van de motor. Als de kraan actief is, hoor je de vrachtwagenmotor draaien. Hiermee komt de energie voor de installatie beschikbaar. Bij de e-pto ligt dat geheel anders. Marcel Luijendijk, Verkoopadviseur Trucks bij Mercedes-Benz Dealer Bedrijven legt uit: "De Laadkraan en de kipper worden aangedreven door een elektrische pomp. In plaats van dat de energie uit het motorblok komt, is er een accupakket gemonteerd. Hierdoor gebeurt het werk zonder uitstoot, brandstofverbruik en motorgeluid. Zo draagt Jan Knijnenburg bij aan een leefbare stad." De trucks worden ingezet voor groenverziening in de binnenstad bij opdrachtgever gemeente Den Haag.
Palfinger en Ruizeveld
Luijendijk vervolgt: "Jan Knijnenburg B.V. neemt al jaren overtuigende stappen op het gebied van duurzaamheid. Nu het tijd was om een serie kraan / kippers van Mercedes-Benz Trucks te vervangen, vroeg onze klant naar schonere alternatieven. Met deze Arocs en met e-pto is dat goed gelukt. Samen met de beste leveranciers in de markt hebben we gewerkt aan een schone en solide oplossing. Zo is de e-pto geleverd door Wierda Hybrid uit Joure en de kraan is van het Oostenrijkse topmerk Palfinger. P. Ruizeveld B.V. uit 's Gravendeel heeft de trucks opgebouwd, waarna wij de puntjes op de i hebben gezet. Nu staat er een mooie truck in Knijnenburg-trim die meteen inzetbaar is."
De voordelen:
Werken met de e-PTO betekent geen geluidshinder of uitstoot rondom de werkzaamheden. Daarnaast is het veiliger, aangezien de chauffeur alles in zijn directe omgeving nu kan horen. Bedrijfseconomisch is er ook een voordeel, namelijk een reductie van het brandstofverbruik. Doordat de dieselmotor voortaan uit kan tijdens het werk rondom de truck wordt er ook geen brandstof geconsumeerd. Daarnaast is het systeem zodanig ontwikkeld dat bij storing, of als de accu's leeg zouden raken de dieselmotor automatisch het werk overneemt. De e-PTO werd ontwikkeld door Wierda Hybrid Technologies in Joure.