Zes Volvo LNG trucks voor Peter Appel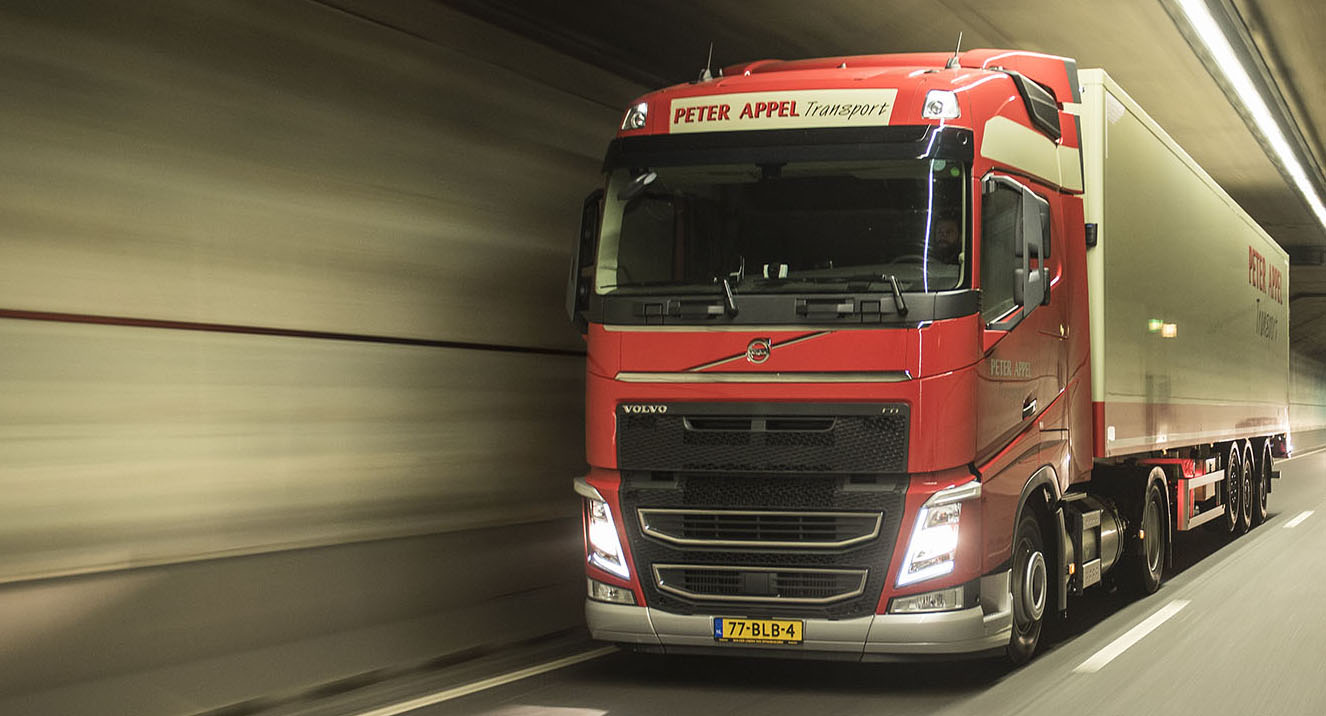 Peter Appel Transport in Middenmeer heeft onlangs de eerste Volvo FH LNG-truck van een serie van zes in ontvangst genomen. Het gaat om FH trekkers met een vermogen van 460 pk en een Globetrotter slaapcabine. De trucks worden ingezet voor middelzwaar tot zwaar distributiewerk en internationaal transport.
Vanuit 40 standplaatsen verspreid over het land verzorgt het transportbedrijf duurzaam, efficiënt en veilig transport van levensmiddelen en non-food producten. Opdrachtgevers zijn voornamelijk retailers, producenten en foodservice bedrijven.
De nieuwe Volvo LNG-trekkers worden vanuit de vestiging van Peter Appel Transport in Geldermalsen ingezet voor transport van en naar distributiecentra van AH. "Wij kijken voortdurend naar de toekomst", zegt wagenparkbeheerder Marcel Pater over de stap naar LNG. "We volgen technische ontwikkelingen nauwlettend en zijn niet bang om hiermee te experimenteren in samenwerking met fabrikanten en opdrachtgevers. We zijn met z'n allen op ontdekkingsreis om te kijken wat een mogelijk alternatief voor diesel is. Voor langere afstanden is dat nu LNG. We zijn in gesprek over de levering van nog eens 20 LNG-trekkers in 2019."
I-Shift-versnellingsbak
De trucks zijn uitgerust met een brandstoftank van 205 kg LNG voor een actieradius tot 1.000 km en I-Shift-versnellingsbak. Dat vindt Pater een grote vooruitgang. Peter Appel Transport heeft namelijk enige ervaring met LNG-transport. "LNG 1.0 was handgeschakeld, eigenlijk een stap terug in de tijd. Dat zorgde voor weerstand onder chauffeurs. Volvo I-Shift verbetert het rijcomfort voor chauffeurs aanzienlijk. Ze zijn immers al druk genoeg met de weg en medeweggebruikers."
Zwaar regionaal en internationaal transport
Volvo Trucks introduceerde de nieuwe Volvo FH LNG en Volvo FM LNG eind vorig jaar. De trucks zijn beschikbaar met 420 of 460 pk voor zwaar regionaal en internationaal transport. In plaats van een ottomotor met bougie ontsteking, de gangbare oplossing voor voertuigen op gas, worden de Volvo FH LNG en Volvo FM LNG aangedreven door motoren die gebruikmaken van het dieselprincipe. Ook dat vindt Pater een grote vooruitgang, aangezien bougies kwetsbare onderdelen zijn. Een vervoerder die voor Volvo-LNG kiest, hoeft niets in te leveren op rijeigenschappen, brandstofverbruik of betrouwbaarheid. De 420 pk-motor van Volvo op LNG levert een maximaal koppel van 2.100 Nm; de 460 pk-uitvoering produceert 2.300 Nm. Het brandstofverbruik is gelijk aan dat van de dieselmotoren van Volvo Trucks maar ligt 15 tot 25% lager dan bij conventionele ottomotoren op gas.
Peter Appel Transport heeft ruim 1.200 medewerkers. Het wagenpark bestaat uit circa 600 trucks, waarvan 45 Volvo-trekkers.