Eerste Hyundai truck op waterstof in Nederland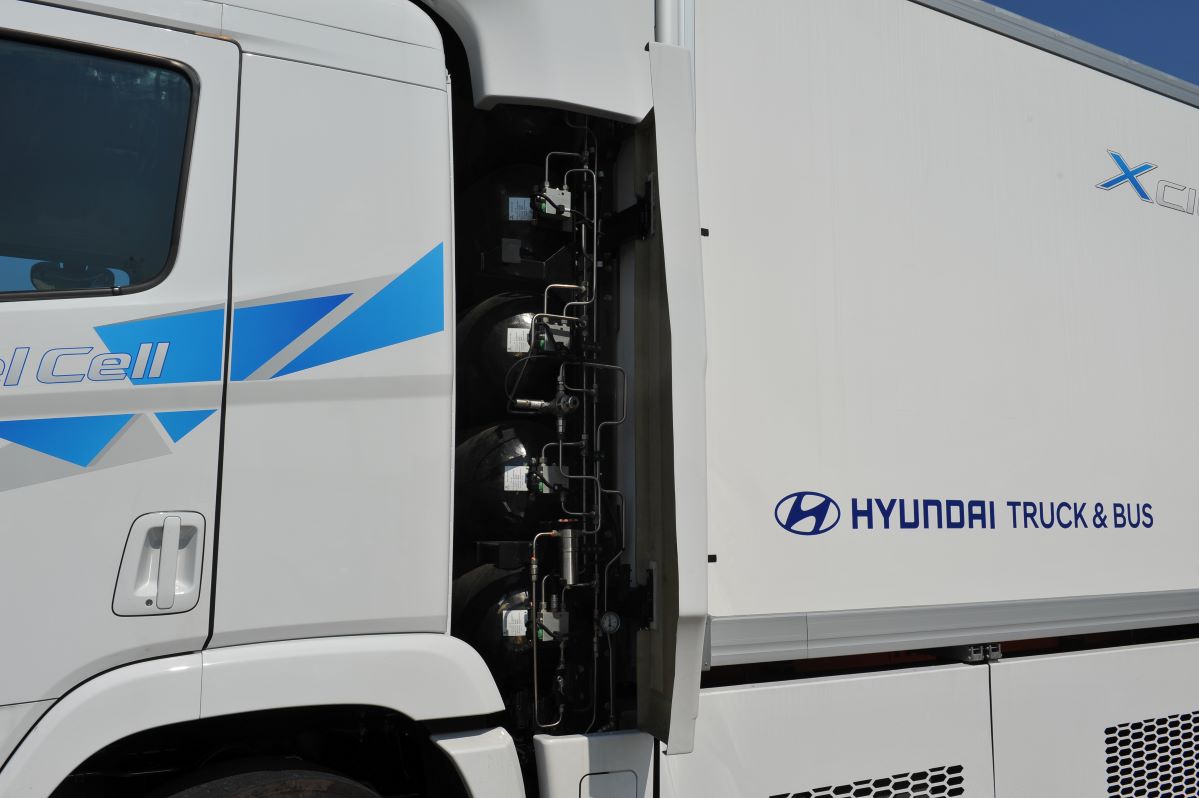 Hyundai heeft vandaag in de haven van IJmuiden de Xcient waterstoftruck gepresenteerd. Hoewel een exacte introductiedatum niet kon worden gegeven, streeft het merk ernaar om met deze truck in 2022 de Nederlandse markt op te komen.
Bekend is dat Hyundai inmiddels 46 van zulke twee-assige bakwagens op de weg heeft rijden bij diverse Zwitserse klanten. "Daar is voldoende waterstof beschikbaar, zijn er vooralsnog voldoende tankstations, betaalt de klant geen wegenbelasting en klopt de actieradius van de truck met de planning van onze klanten daar", aldus Nabil Nachi, die bij Hyundai het waterstofproject leidt en die in IJmuiden een toelichting gaf, die overigens voornamelijk voertuig-gerelateerd was.
Aan uitspraken over de opzet van een aftersales- of dealernetwerk waagt Hyundai zich nog niet, maar duidelijk werd wel dat Nachi als vrachtwagenman pur sang, dat ook op dit gebied geen half werk mag worden geleverd. Hyundai zou bij monde van Nachi graag zien dat de waterstofinfrastructuur in ons land wat dichter in de buurt komt bij die van de Zwitserse, vooraleer er sprake kan zijn van een marktintroductie. Op dit moment zijn slechts vijf waterstoftankstations in ons land geschikt voor trucks die met deze stof elektrisch kunnen rijden.  
Meer varianten
Intussen werkt Hyundai aan meer varianten van de Xcient. Zo wordt er al uitgebreid proef gereden met een drie-asser die goed is voor een GVW van 27 ton. Verder os een twee-assige trekker in ontwikkeling. Nachi beseft dat dit belangrijke voertuigtypen zijn op de Nederlandse markt. Uitgangspunt is steeds een aandrijflijn waarbij de brandstofcel daar zit waar we tot dusverre een dieselmotor gewend zijn en waarbij de waterstoftanks zijn gestapeld achter de cabine. De 'slimme elektronica bevindt zich achter het rechter voorwiel aan het chassis en de elektromotor zit in het chassis bij de achteras. De Xcient heeft een GCW van 34 ton, dus wanneer de bakwagen is voorzien van een aanhanger, is 34 ton het totaalgewicht. De bakwagen heeft een GVW van 19 ton, wat op een bruto laadvermogen neer komt van tien ton en netto zo'n 7 à acht ton. Waarden die voor een soortgelijke dieseltruck niet misstaan.
Prestaties
De actieradius van de Xcient bedraagt zo'n 400 kilometer en daarvoor ,moet in minimaal acht minuten 32 kg waterstof getankt worden. Die wordt opgeslagen in zes tanks van koolstofvezel, opgebouwd achter de cabine.  De elektromotor levert een topvermogen van 350 kW (476pk) en een maximum koppel van 2237 Nm. Volgens Hyundai bespaart deze Xcient 63 ton CO2 uitstoot op jaarbasis.  
Healthy Seas
Hyundai onthulde de eerste Xcient op Nederlandse bodem in IJmuiden om aandacht te vragen voor Healthy Seas. Deze organisatie streeft ernaar om zoveel mogelijk plastic uit zee te halen en is hiermee sinds 2013 actief. Sindsdien heeft Healthy Seas al zo'n 575.000 ton plastic uit zee gehaald. Vaak zijn dit visnetten of restanten daarvan.