VW ID Buzz Cargo: Hebbeding!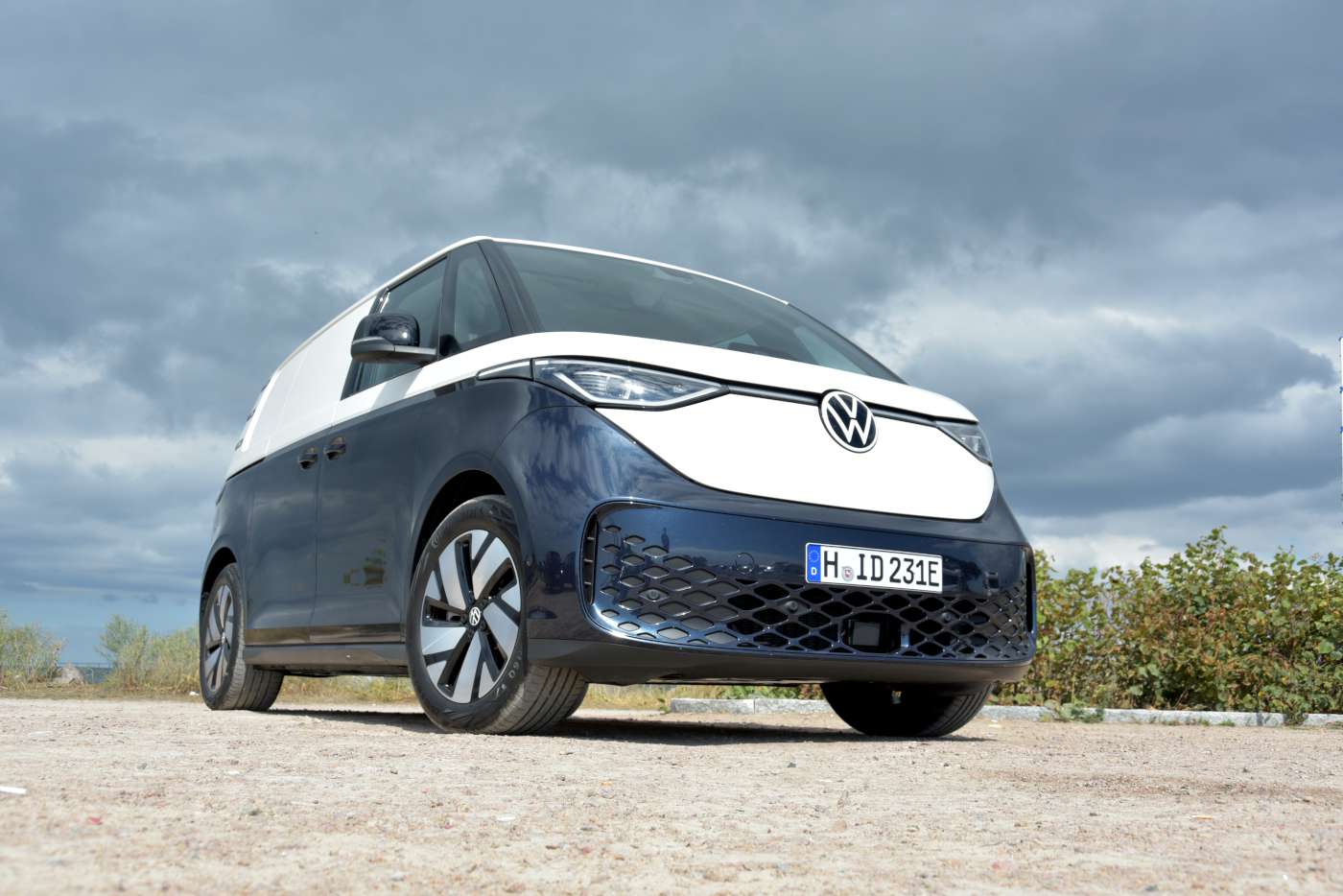 De eerste 'artist impressions' van de nieuwe Bulli, zoals VW het busje graag noemt, zijn al een jaar of vijftien oud. De nieuwe Bulli zou een retro T1 moeten worden, maar dan voorzien van de nieuwste techniek. Het heeft even geduurd, maar met de ID Buzz is VW daar prima in geslaagd. Uiterlijk doet hij denken aan de oer- transporter, de T1 maar onderhuids is het allemaal moderne techniek, compleet met een volledig elektrische aandrijflijn. Wij maakten onze eerste, hele duurzame kilometers in Denemarken en Zweden met deze opvallende nieuwkomer, die is uitgeroepen tot International Van of the Year 2023!.
We rijden de in two-tone gespoten blauw witte ID Buzz Cargo vanuit Kopenhagen over de brug- tunnelverbinding naar Zweden. De zit achter het stuur is prima, ook als je wat groter bent dan gemiddeld. Je zit voor je gevoel vrij ver naar achteren, terwijl het dashboard en de daklijst ver doorlopen. Dat geeft een fijn, geborgen gevoel maar het heeft ook nadelen. Zo is het lastig om vlak voor de auto te kijken, en ook hoog hangende stoplichten zijn slecht te zien. Verder is het overzicht prima, al ontbreekt een dode hoek stukje in de buitenspiegels. Gelukkig is de ID Buzz rijkelijk voorzien van sensoren, onder meer voor als er wat in je dode hoek opduikt. Ook met de andere verwennerij is het prima in orde bij deze nieuwe VW. De standaarduitrusting is bijzonder compleet, met onder meer bumpers in kleur, front assist, ACC met stop-and Go en een multifunctioneel stuurtje. Het rijden in de stad is met al die techniek aan boord kinderspel. De ID Buzz volgt keurig je voorganger, stopt waar dat moet en rijdt na een tikje op het gas weer verder. Ook verkeersbord herkenning is aan boord, waardoor bekeuringen voorkomen worden.
Eenvoudige bediening
Het interieur van de Cargo uitvoering wordt door de collega autojournalisten als saai ervaren, maar ik vind het eigenlijk wel prima. In de personenauto uitvoering schreeuwen de lichte tinten je tegemoet, zeker in het later door ons gereden exemplaar met een geel met wit interieur. Een wit, lederen stuurwiel mag er dan hip uit zien, maar hoe lang blijft dat wit? De grijs kenteken versie, de ID Buzz Cargo is daarin wat minder uitgesproken. Donkere kleuren overheersen en alles zit op de juiste plek. Ik verbaas me erover dat ik eigenlijk zo wegrij met de ID Buzz, zonder mij te hoeven verdiepen in de bediening. Het dashboard is een kleine, digitale unit die op de stuurkolom gemonteerd is. Als je het stuur verstelt beweegt ie mee. Het is erg compact en simpel, en het lijkt een beetje op een dashboard van een bromfiets. Toch wordt alle informatie helder weergegeven door het display, niks mis mee dus.
Opbergruimte
Centraal op het dashboard is een groot multimedia touchscreen gemonteerd met onder meer de navigatie. Ook dat scherm laat zich eenvoudig bedienen. Ondanks het kleine dashboard schermpje achter het stuurwiel oogt het interieur goed. Er is voldoende opbergruimte, onder meer in de uitneembare middenconsole, in een open vak en een afsluitbaar kastje. Ook in de deuren zijn diepe vakken aangebracht waar heel wat in kan. Boven op het dashboard is over de volle breedte een groot aflegvak waar ook van alles in kan. Reuze handig voor al je administratie, maar het ligt wel volledig in het zicht. Het grootste nadeel ervan is dat al je documenten reflecteren in de voorruit, en dat is irritant. Als het mijn eigen ID Buzz zou zijn dan werd daar rap een deksel op gemaakt door een interieurbouwer, bijvoorbeeld met een mooi lapje leer er omheen met van die stikseltjes.
Stoplichtsprinter
Het vermogen van 150 kW (204 pk) wordt losgelaten op de achterwielen. Voordeel daarvan is dat de stuurhoek enorm is, je keert dit busje binnen de elf meter en dat is echt heel kort. Reuze handig in de binnenstad! Het vermogen is fors, zeker voor een lege bestelwagen en dat blijkt uit de stevige acceleratie. Elektrisch rijden is wat dat betreft een feestje, want je spuit vooruit als dat kan met zo'n stoplichtsprinter. Daarbij is de wegligging erg goed, mede dankzij het lage zwaartepunt met al die accu's in de bodemplaat. Uiteraard is het beter om wat minder enthousiast te doen, al was het maar om de kostbare banden een wat langer leven te gunnen. Standaard zijn 18 inch stalen wielen. Onder de door ons gereden uitvoeringen zaten 19 en 20 inch aluminium wielen met een ontwerp dat doet denken aan de snijbonenmolen van mijn grootmoeder. Daarmee voelt de Cargo uitvoering wel wat hard aan zonder lading. Het verschil met de geel kenteken versie is groot wat dat betreft.
413 km WLTP
De hamvraag bij elektrische voertuigen is natuurlijk altijd de actieradius. Volkswagen is er in geslaagd een WLTP bereik van 413 kilometer te halen met de ID Buzz. Dat is een gecertificeerde testmethode waar alle merken zich aan geconformeerd hebben, maar in de dagelijkse praktijk zul je altijd lager uitkomen. Toch moet dat ruim voldoende zijn voor de gemiddelde inzet van een bestelwagen. Natuurlijk speelt het verbruik daarbij een rol en daar heb je zelf grote invloed op. VW geeft een verbruik op van 17,7 kWh en dat is erg goed. In de praktijk zal dat altijd wat hoger liggen, naar schatting rond de 22 kWh. De tijd om dat zelf te ondervinden was er helaas niet. Uiteindelijk is het met elektrische auto's gewoon zo dat wie altijd hard optrekt en stevig doorrijdt zijn gewonnen tijd weer inlevert aan de laadpaal. Zo simpel is het eigenlijk.
Bruikbare laadruimte
De laadruimte van de ID Buzz Cargo is prima bereikbaar door twee grote schuifdeuren en een elektrisch werkende achterklep. De vloer is mooi vlak en biedt ruimte aan twee Europallets. De laadlengte bedraagt ruim 220 cm en de breedte tussen de wielkasten is 123 cm. Tussen de schuifdeuren is dat 173 cm. De minimale laadhoogte is ruim 125 cm, en alles bij elkaar is er 3,9 kuub laadruimte achter het tussenschot, ruim voldoende voor de meeste inzetten. Het laadvermogen bedraagt 647 kilo. Aan de elektrisch uitklapbare trekhaak mag een aanhangwagen van maximaal 1 ton gekoppeld worden. Leeg weegt de ID Buzz Cargo 2285 kilo. Dat is vrij fors, maar dat komt natuurlijk door de accu's die onder de vloer zijn aangebracht.
Langere versie komt nog
Alles bij elkaar is Volkswagen er in geslaagd om een hypermoderne elektrische bestelwagen neer te zetten met een uiterlijk dat doet denken aan vroeger. Argeloze voorbijgangers in Kopenhagen keken hun ogen uit naar het futuristische karretje. Daarmee is zo'n ID Buzz een blikvanger van jewelste en daarmee een echt hebbeding voor ondernemers. Gezien de orderintake lijkt de ID Buzz nu al een succes te zijn. Met de komst van een verlengde wielbasis zou dat nog wel eens groter kunnen worden als daar straks een dubbel cabine grijs kenteken versie in mogelijk wordt. Dat zou voor veel ZZP-ers wel eens heel aantrekkelijk kunnen worden. De vanaf prijs van de grijs kenteken uitvoering is vastgesteld op 46.200 Euro ex BTW.
Iep van der Meer